Elizabeth Lee and Anne Morley were walking along New Hampshire Street Saturday when they stopped to gape at an odd procession of colorful and bizarre vehicles, carts, scooters and bicycles.
"I was just trying to understand what it was all about," Morley, of St. Louis, said after this year's Art Tougeau parade had passed by. "They don't have anything like this in St. Louis."
"It was all very colorful," Lee, of Lawrence, said of the parade, which she had never seen before.
One of the vehicles that got their attention was a car covered with toy figurines fastened by silicone to the body of a 1988 Ford Tempo. The entry was from Pat Slimmer, of Slimmer's Auto Service, 2030 E. 23rd St., and was chosen by a panel of judges to receive first-place honors.
Slimmer said work began on the car a week earlier and continued periodically during the next four days.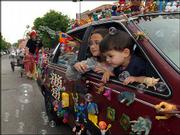 "It was a lot of fun," he said. "I had all the neighborhood kids helping out. It was kind of a neighborhood project."
The entrants started their 5-mph roll along a mile route through downtown at the Lawrence Arts Center, 940 N.H. This was the eighth year for Art Tougeau, designed to promote art in the community.
The parade certainly attracted the attention of Jocelyn Kitchen and Cynthia Dahlberg, both of Lawrence.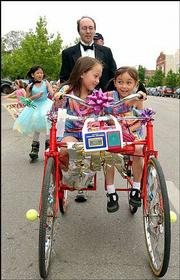 "It was too short," Kitchen said. "We've got bicycles, pogo sticks and stilts; I think we can enter the parade next year."
Zakk Troupe, 4, from Oakland, Neb., watched the parade with his uncle, Andy Brown, of Lawrence.
Zakk liked the bikes and cars, but Brown said the best thing about it was the candy thrown to onlookers by some in the parade.
Slimmer has had entries in the parade the past three years. He said he was unsure what he would do next year for an encore.
"We'll probably just scrape the stuff off this car and start over," Slimmer said. "We'll make this the designated art car."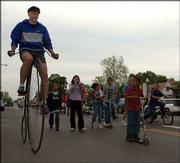 Copyright 2018 The Lawrence Journal-World. All rights reserved. This material may not be published, broadcast, rewritten or redistributed. We strive to uphold our values for every story published.