Be afraid. Be VERY afraid.
Somewhere in the usual procession of bright, cheerful wheeled contraptions in the upcoming Art Tougeau Parade will be a decidedly more ominous entry created by sculpture students at Lawrence High School.
They call it a phobia car, but you can just think of it as fear on wheels.
The students are depicting in sculptural form the people, objects or ideas that freak them out most: clowns, dolls, doctors, birds, spiders, demons, snakes, death.
"I'm trying to make them as creepy as possible," senior Lauren Higbie says of the plastic dolls she's dismantling and reassembling as stitched-together mismatches.
Other students are starting from scratch, using papier-mâche to build structures such as clown and demon heads. There's even a circus tent.
"My whole life I've been scared of circuses," says sophomore Stephanie Buckley, who plans to haunt her tent with rips and bold red stripes. "I start crying. I'm afraid someone's going to fall off a tight rope or something."
The students will attach their scary sculptures to a Ford Escort, donated by Pat Slimmer of Slimmer's Automotive Service.
"It's been a great project for them to do because not only is it a sculpture project, but it's also an event that's part of the community, so it's a great cooperation between LHS and the community," says Deena Amont, an LHS art teacher.
The car is the final project in Amont's ceramics/sculpture class. Gifted education teacher Tom Birt helped Amont introduce the students to the art car concept.
Most of the students hadn't heard of Art Tougeau before this year, but they're excited to be part of the parade.
"It's a chance for LHS to show their artistic abilities," junior Amber Phillis says.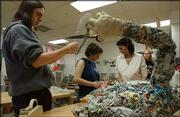 The usual string of colorful, zany moving artworks will join the LHS fearmobile for Saturday's parade, but a few new wheels will roll down the route as well -- new to Lawrence, that is, but no stranger to art car parades.
Organizers moved the parade back a few weekends this year so people heading back from the late-April Austin Art Car Parade and this weekend's Orange Show (the oldest and largest art car parade in the world) in Houston could take part in Lawrence's nine-year tradition.
Among the out-of-towners who have committed, organizer Margaret Morris says, are the Banana Bike Brigade, a pack of animal-themed cycles; Matt Slimmer and his boat car; and a woman from Lucas whose vehicle is covered in the world's largest collection of the world's smallest versions of the world's largest things. Think tiny Eiffel Tower.
The nearly mile-long parade route begins at the Lawrence Arts Center, 940 N.H., heads south to 10th Street, west to Massachusetts, north on Massachusetts to Seventh, east to New Hampshire, then back south to the arts center. Awards and special events -- including a screening of "Leo Beuerman," a documentary about the one-time Lawrence resident with severe disabilities who got around in a small, wheeled cart -- will follow.
Art on wheelsWhat: Ninth annual Art Tougeau ParadeWhen: Registration, check-in and judging, 10:30 a.m. Saturday; parade begins around noonWhere: Lawrence Arts Center, 940 N.H.Fee: Adults, $15; children and entrants who traveled more than 300 miles, freeInfo: 843-2787 or cjones@sunflower.com
A $15 entry donation is requested, but children and people traveling more than 300 miles to reach the parade are free.
For the first time, organizers will have a kick-off party the evening before the parade. The festivities will be from 6 p.m. to 9 p.m. Friday atop the parking garage across from the arts center.
"It's totally all about fun," Morris says of the parade. "It's all about community spirit. It's about grass roots. It's about just having people come out and have a good time."
Copyright 2018 The Lawrence Journal-World. All rights reserved. This material may not be published, broadcast, rewritten or redistributed. We strive to uphold our values for every story published.