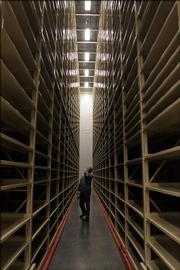 Kansas University announced a new dean of libraries Wednesday as officials dedicated the new $5.8 million Library Annex on west campus.
Lorraine Haricombe, dean of libraries at Bowling Green State University, will begin Aug. 1. She succeeds Stella Bentley, who is retiring.
Haricombe (HAIR'-ee-comb) could not be reached for comment Wednesday.
Her salary will be $160,000.
Denise Stephens, vice provost for information services, said Haricombe was an experienced administrator with a strong belief in staff development who understands the challenges and opportunities facing academic libraries.
Haricombe will report to Stephens for 90 percent of her duties, while reporting to the provost's office for faculty promotion and tenure matters, Stephens said.
Haricombe, a native of South Africa, began her college career in South Africa before earning master's and doctoral degrees in library and information science from the University of Illinois at Urbana-Champaign.
She has been dean of university libraries at Bowling Green since 2001.
Also on Wednesday, KU administrators dedicated the Library Annex, 1880 Westbrook Drive. The facility, which can house up to 1.6 million volumes, was built to relieve overcrowding and to open up study space in the libraries.
About 250,000 volumes now in an off-campus storage site will be moved to the annex, and other volumes will follow. Library staff have gathered input from faculty, but some still aren't pleased about the process.
Marjorie Swann, associate professor of English, said she worried that the libraries were beginning to look like a student union/coffee shop, and the university would hurt its research edge in the process.
Swann said some faculty were attempting to prevent as many books as they could from being moved to the annex.
"There really is a sense of this being a salvage operation, and it's a matter of who do you keep in the lifeboat?" she said.
Once the books are in the annex, they must be requested to be accessed and should be available within 24 hours.
History professor John Sweets said there was value in being able to browse the stacks in a library rather than browse for items on the computer. He said students needed to be encouraged to browse the shelves.
"You're apt to find things that just catch your eye," he said.
Library Annex
Copyright 2018 The Lawrence Journal-World. All rights reserved. This material may not be published, broadcast, rewritten or redistributed. We strive to uphold our values for every story published.