After watching Blue Springs (Mo.) hitters smash six hits and six runs in the first 22â3 innings, Lawrence High's Daren Parker weighed his options in the bullpen.
Can't overpower them. Can't go around them. Might as well go through them.
"The entire lineup could hit, so we're not going to try to pitch around any of them," Parker said. "We just tried to go after every one of them."
The senior's aggressiveness paid off, as his relief work helped LHS rally for an 8-7 victory Saturday at Ice Field against Blue Springs - a team ranked 41st nationally in the latest Baseball America poll.
The southpaw went 41â3 innings of relief, allowing just one run and four hits. Parker struck out five, locating his changeup effectively after a pair of outings where he struggled with his command.
"He was getting strike one on every hitter," LHS coach Brad Stoll said. "He was pitching his game, and it's going to do wonders for his confidence."
Meanwhile, the Lions never panicked when trailing 6-2 and also never let their bats cool down.
LHS scored four in the fourth to tie it, with six consecutive hitters reaching safely. Nick Madl started with a single, and after a Blue Springs error, Daniel Parker and Marc Albers contributed back-to-back run-scoring doubles. Michael Sickinger's shot off first baseman Nick Tepesch's glove scored two more, knotting the game at 6.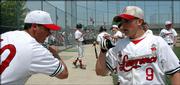 "We didn't put our heads in the dirt like we've been doing," Knight said. "We stayed strong and stayed positive. That's the main focus."
Blue Springs (13-2) added one in the fifth, but again LHS responded. Leadoff hitter Brian Heere bunted, but it just rolled foul.
No matter. Two pitches later, the senior launched a shot over the wall in right to tie it for the Lions.
Knight delivered the game-winner in the sixth. Sickinger led off with a single, and John Novotny's well executed sacrifice moved him to second.
"You know you have to step up," Knight said, "in a tough situation like that."
The senior did, lining a shot to right to give Lawrence its first lead since the first inning.
Daren Parker finished the Wildcats in the seventh, striking out cleanup hitter Andrew Melanson to end it.
After a run-rule loss to Free State two weeks ago, LHS has won five of its last seven games.
"Those waxings got us motivated a lot," Knight said. "We don't want those happening again - we want to start handing them out."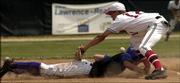 Lawrence High 8, Blue Springs (Mo.) 7
Blue Springs (Mo.) 024 010 0 - 7 10 3
Lawrence 200 411 x - 8 14 0
W-Daren Parker. L-Kyle Barbeck.
2B-Blue Springs: Colin Pennington; LHS: Daniel Parker 2, Marc Albers. HR-Blue Springs: Nick Tepesch; LHS: Brian Heere.
LHS highlights: Michael Sickinger 3-for-4, two RBIs, run; Tyler Knight 3-for-4, stolen base, RBI; Heere 2-for-4, HR, three runs; Dan. Parker 2-for-4, two doubles, three RBIs, two runs; John Novotny 2-for-3, sac; Dar. Parker 4.1 IP, ER, 4H, 0 BB, 5K.
Copyright 2018 The Lawrence Journal-World. All rights reserved. This material may not be published, broadcast, rewritten or redistributed. We strive to uphold our values for every story published.