Unknown to coach Brad Stoll, Lawrence High outfielder Michael Sickinger is on a diet.
Thanks to the senior left fielder's bat and his lack of food, the Lions defeated Olathe East, 15-5, on Thursday at Ice Field.
"Whatever he is eating for breakfast, he needs to keep eating it, because it's working well for him," Stoll said. "He's been hitting well for over a week now. He's getting some opportunities in the four-hole to drive in some runs, and he's doing it."
Sickinger actually is on a diet and has not eaten breakfast for the past week or so. His extended morning fast coincided with his current hitting tear.
Thursday, he was 2-for-3 with a two-run home run and sixth RBIs. He could have had an even bigger day but struck out with the bases loaded in the fourth inning.
"I wasn't trying to do too much. I just wanted to make good contact," Sickinger said. "It went well today."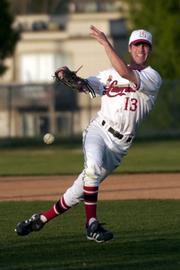 Daniel Green started for the Lions and allowed only four hits and one earned run over five innings. He struck out the side in the first inning and pitched around three defensive errors behind him during his 97-pitch effort.
"Our pitching hasn't been real strong, but tonight our pitching was great," Stoll said. "Daniel Green was good - real good. I was real pleased with him."
LHS jumped to a 3-0 lead in the bottom of the first thanks to a two-out rally started by shortstop Marc Albers.
Albers, who sang the national anthem before the game, doubled to left field before Sickinger homered for his first two RBIs.
After the final out, Albers had to hurry back to Lawrence High to perform in the school's "Showtime" talent show.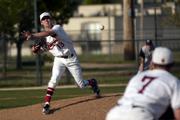 "It's unbelievable," Sickinger said. "'Showtime' is a pretty big deal at Lawrence High, a lot of practice and everything, and if you can do that and still come out to the baseball field and find enough perseverance to play : he's a great athlete, inside and out."
The Lions scored five runs in the second inning, two off a double by Sickinger. Lawrence was up 8-0 after two innings but couldn't put the game away until the sixth inning, when the Lions scored four runs to end the game on a mercy rule.
"We should have put them away much earlier than we did," Stoll said. "But it was a good win because we didn't play very well at all on Tuesday. We scored a lot of runs and we pitched well. I'm pretty pleased"
Lawrence (8-6) will play host to Blue Springs (Mo.) at noon Saturday.
Copyright 2018 The Lawrence Journal-World. All rights reserved. This material may not be published, broadcast, rewritten or redistributed. We strive to uphold our values for every story published.