About an hour after hundreds of children raced around South Park on Saturday and snatched up most of the 10,000 hidden eggs, 6-year-old Esley Pulliam was still on a mission.
Photo Gallery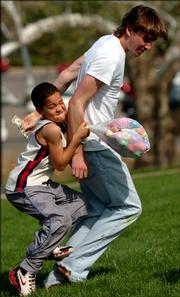 Easter Fun
"Chocolate," said the Kennedy School kindergartner.
Esley, his sister Kellie, 5, and his friend Wemontay Jones, 6, still had the chance to find five plastic eggs during the Egg Hunt Eggstravaganza organized by the Lawrence Parks and Recreation Department and area businesses.
The hunters had to find five different-colored eggs before they could exchange their plastic finds for a bag of candy.
It was Esley's first year at the Lawrence hunt, but he and his family and friends enjoyed the quiet search after the masses had already scoured the park that initially was littered with blue, orange, green, yellow and pink plastic eggs.
Most children, who had already captured their prizes, hung around South Park with their parents and friends. Parents snapped photos of their children with Baby Jay and the Easter Bunny.
Others waited in line to jump and climb on the inflatable toys, while Esley and Wemontay continued their search for elusive pink eggs to complete their hunt.
"I have four right now," Esley said.
"I have four, too. What's the other color we need?" Wemontay asked.
Copyright 2018 The Lawrence Journal-World. All rights reserved. This material may not be published, broadcast, rewritten or redistributed. We strive to uphold our values for every story published.