Vatican City — Pope Benedict XVI ushered in Easter services late Saturday with a dramatic, candlelit vigil in St. Peter's Basilica, saying Christ's resurrection was "the most crucial leap" in the history of mankind.
The bells of St. Peter's tolled across Rome as midnight approached to herald in Easter, when the faithful celebrate the resurrection of Jesus after his crucifixion on Good Friday.
This year, Easter Sunday also coincides with Benedict's 79th birthday.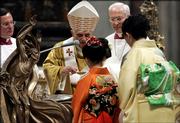 At the start of Saturday night's lengthy vigil, Benedict entered the darkened basilica in silence, holding in front of him a single white candle. Its flame was then shared with others until slowly the whole basilica began to twinkle with candles held by the thousands of faithful gathered for the chant-filled service.
During his homily, a tired-looking Benedict said some people wrongly believe that the miracle of Jesus' resurrection did not concern ordinary men.
"If we may borrow the language of the theory of evolution, it is the greatest 'mutation,' absolutely the most crucial leap into a totally new dimension that there has ever been in the long history of life and its development: a leap into a completely new order which does concern us, and concerns the whole of history," he said in response.
During the service, Benedict baptized seven people - a rite he said was more than a washing or purification of the soul.
"It is truly death and resurrection, rebirth, transformation to a new life," he said.
Copyright 2018 The Associated Press. All rights reserved. This material may not be published, broadcast, rewritten or redistributed. We strive to uphold our values for every story published.