Lawrence High's baseball team now subscribes to a new motto - Play P......d Off.
"Our goal is to play angry," Lions coach Brad Stoll said. "We did tonight, and we have to do it tomorrow."
On Thursday night at Ice Field, Lawrence High run-ruled Kansas City (Mo.) Rockhurst, 12-2, in the River City Festival. At 12:30 p.m. today, the Lions will meet Blue Valley Northwest at Hoglund Ballpark.
"You'll see the exact same team you saw tonight, if not better," LHS left fielder Michael Sickinger said. "I think we proved tonight we're here to play hard."
Sickinger was one of the ringleaders in Thursday's LHS victory. He went 3-for-4 with four RBIs.
Sickinger's two-out bases-loaded double in the fourth inning blew it open.
The Lions, with junior left-hander Daniel Green stifling the Hawklets, nursed a 1-0 lead going into the fourth despite stranding six runners. Moreover, a pair of Lions were thrown out on the bases.
But then Sickinger, a left-handed hitter, drilled a fastball from Rockhurst left-hander Michael Flanagin into the left-field gap to clear the bases.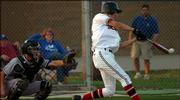 Minutes later, Sickinger scored on a single by Tyler Knight who, in his next at-bat in the fifth, would launch a three-run game-ending homer over the left-field fence to climax a seven-run explosion against reliever A.J. Lolli.
As the Lions celebrated, memories of last Tuesday night's 12-1 run-rule loss to rival Free State High faded.
"I can't say enough about what our kids did tonight," Stoll said. "They went from being embarrassed to beating one of the top programs in the Midwest."
Rockhurst batters managed only three hits off Green, who fanned four and made only one mistake - a pitch that catcher T.J. Dailey hammered over the left-center-field fence for a two-run homer in the fifth.
"I was extremely happy with our hitting," Green said. "We'd been in a little slump hitting, and we bounced out of it."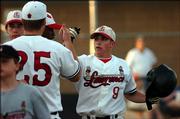 Stoll was extremely happy with Green's pitching.
"He was getting them out with his two-seam fastball, and his change was really nice," the Lions coach said. "We think he has a chance to be really special."
Green walked three Hawklets in the fifth after Dailey's homer, but was able to work out of the jam. Rockhurst's only other threat came in the second when a walk and Ryan Gibson's double put two runners in scoring position.
That threat ended in a hurry when shortstop Marc Albers tagged Gibson out using the old hidden-ball trick.
"Marc's a real heady player," Stoll said. "He's one of those baseball guys."
LHS (5-4) ended a three-game losing streak.
Lawrence 12, K.C. Rockhurst 2
K.C. Rockhurst 000 02 - 2 3 4
Lawrence 100 47 - 12 11 0
W-Daniel Green. L-Michael Flanagin.
LHS highlights: Brian Heere 3-for-4, SB, two runs; Michael Sickinger, 3-for-4, 2B, four RBIs, two runs; Tyler Knight 2-for-2, HR, four RBIs; Nick Madl 1-for-2, two runs.
Copyright 2018 The Lawrence Journal-World. All rights reserved. This material may not be published, broadcast, rewritten or redistributed. We strive to uphold our values for every story published.