Brandon Rush, who was awarded Kansas University's most-valuable-player award by teammates and coaches Tuesday night, says he'll be back next year to try to win it again.
Rush, KU's 6-foot-6 freshman men's basketball guard from Kansas City, Mo., told reporters after a 11â2-hour awards show at the Kansas Union that he definitely would be back for his sophomore campaign.
It's the second time he has said he'll be back, the first coming after KU's season-ending loss to Bradley.
"I've not accomplished what I want to accomplish, that is win a national championship before I go anywhere," Rush said. "I'm looking forward to coming back, having a great season and trying to lead us to the championship."
Rush, who also won the team's top rebounder award, said KU coach Bill Self recently provided him information from NBA teams. Self recently indicated he'd continue to check on draft information for Rush, with players having until April 29 to declare, but no longer needs to continue the process with Rush indicating he's staying.
"I would have had to hear I would be a guaranteed first-round pick," said Rush, who said, "I heard I'm not guaranteed first round, could be first round, second round. There's no need to go into that (in public).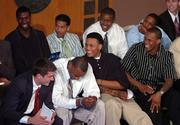 "There are things I need to work on in the offseason. I'll work on my left hand a lot. I feel good about it."
Rush, who said he was bombarded by questions from students on campus - "are you staying, are you staying?" he said - was asked why he didn't want to enter the draft, work out for teams with the option of dropping out a week before the draft provided he had not signed with an agent.
"I think I can just wait for next year to find out where I'm at," Rush said.
Self said Rush's declaration to return was "good news to me. It is a great deal. I really appreciate it because we've not pressured him into saying anything. We've been very open and honest in finding information. The information we found out is accurate to what he said (possible late first round or second round pick), but not totally complete because more information is available closer to the draft."
Self said he thought Rush was making the right call in returning.
"For him : he is just starting (to blossom). He is on an upswing," Self said. "In everybody's mind, there's still a lot of room for improvement in his game."
Though Self hadn't discussed the issue with Rush lately, he wasn't completely surprised at Rush's declaration to media members Tuesday.
"He said all along nothing had changed, I'll do what I'm supposed to do, work out, and if information dictates there's something to test, he would," Self said.
Asked if this affected KU's chances positively for next season, Self said, "My gosh, I said I thought we'd be good. Our chances will be greatly enhanced with him."
More positive news has come out of Chicago. It appears KU freshman guard Sherron Collins is having a great semester academically and his SAT score combined with grades in his core courses should make him eligible next season.
¢ No coaches expected to leave: It is believed KU assistant coach Joe Dooley will be back next season. He interviewed for the UNC-Wilmington job last week.
"We are fortunate to have a group of guys (assistants) that want to be at Kansas because there is unfinished work here," Self said at the awards ceremony, responding to "rumors" about his assistants being tied to other jobs.
Dooley and Self declined to comment specifically on the Wilmington opening.
¢ Mr. Jayhawk: Russell Robinson was the winner of the coveted "Mr. Jayhawk" Award, which goes to a KU player for his efforts on and off the court.
"Either way I'd have been happy," said Robinson, who also won the team's best defensive player award and assist-leader award. "I had a good season. I felt I contributed to my team any way I could."
"He is the heart and soul of Kansas," Self said.
¢ Other awards: Mario Chalmers and Julian Wright shared the most improved player award; Christian Moody took the academics award; Chalmers won the free-throw-percentage award; and Wright and Sasha Kaun shared the field-goal-percentage award.
¢ Max nets bike: KU's basketball players and coaches presented retiring announcer Max Falkenstien a brand new bicycle. Coincidentally, Falkenstien's bicycle broke down Tuesday when he was riding it by Clinton Lake.
¢ Signing period: The late signing period runs from today until May 17. Darrell Arthur, 6-9 from Dallas, is not expected to pick a school today. He's considering KU, Oklahoma, Texas and Baylor with LSU and Arizona possibilities.
Self could not comment about specific recruits in accordance with NCAA rules. "There are still players out there," Self said of possible signees.
KU has two scholarships to give and the coach intimated there are other players besides Arthur on the radar.
¢ Self on new Oklahoma coach Jeff Capel. "I do not know him well. I've met him. He's really a good guy. I am not surprised it was him. I am surprised because nobody in the media thought it'd be him. Joe Castiglione (AD) did a good job keeping it under the radar."
¢ Attendance: About 700 fans attended the awards show at the Kansas Union Ballroom. All available tickets had been gobbled up by Monday afternoon.
Copyright 2018 The Lawrence Journal-World. All rights reserved. This material may not be published, broadcast, rewritten or redistributed. We strive to uphold our values for every story published.