Editor's note: This is the first in a two-part series about the mentally ill in the Douglas County jail.
Robert "Simon" Gilmore is in jail. Again.
He's been arrested eight times in the past three weeks. The last time - April 3 - he asked the judge to leave him in jail for 90 days.
"He said if they let him out, he'd just get arrested again," city prosecutor Jerry Little said. "So the judge set his bond at $500. He's still in jail."
Gilmore, who will soon turn 50, is the homeless man who's often seen sitting or sleeping on the sidewalk in front of either Weaver's department store or The Replay Lounge downtown.
He's known for wearing white socks on his hands and, when it's cold, wrapping himself in a thrift-shop blanket. Legally blind and intensely private, he rarely says more than a few words to strangers.
Family members say Gilmore has been diagnosed as paranoid schizophrenic.
Mental health advocates and law enforcement authorities say he has become a prime example of how the mentally ill, especially those who refuse treatment, are falling through ever-widening cracks in the social service network.
Since moving to Lawrence in the early 1980s, Gilmore has been arrested more than 50 times, usually for wandering on private property, urinating in public, disobeying a police officer or obstructing traffic.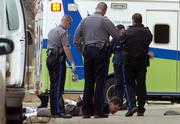 "He can't see very well, so he tends to walk in the street," Little said.
Gilmore's latest troubles stem from a new city ordinance that prohibits camping on a downtown public right-of-way. Sleeping on the sidewalk in considered camping.
City commissioners passed the ordinance in response to downtown merchants' complaints of people sleeping in doorways, sidewalks and alleys.
The ordinance was not aimed specifically at Gilmore, Mayor Mike Amyx said.
"The ordinance is very fair," Amyx said. "It concerns all kinds of folks, not just him."
'The only place'
Little said jail wasn't the best place for Gilmore. But for someone who's mentally ill and who insists on breaking the law, it's the only place.
"We're at a loss as to what to do with him," Little said. "He's very independent."
Gilmore has refused help from Bert Nash Community Mental Health Center.
Recent efforts to have him committed to Osawatomie State Hospital have been denied, Little said.
To have Gilmore committed, Little would have to prove that Gilmore is a danger to himself or others and incapable of making reasoned decisions.
"I could probably get one - 'danger to himself or others' - but I can't get both," Little said, noting that in the past, Gilmore's mental illness hasn't been considered severe enough to hinder his decision making.
Under the law, Gilmore has the right to choose to be mentally ill.
"I'd be glad to work with any agency in town that thinks it can work with Mr. Gilmore," Little said.
Bert Nash stands ready to help, but Gilmore has rejected the mental health agency's overtures.
"I cannot comment on this or any other individual's circumstances," said Dave Johnson, Bert Nash executive director. "But I will say that people have the right to refuse services. You don't lose your rights because you're mentally ill.
"But when that's the case," he said, "we don't have a solution."
Gilmore's troubles are fast becoming a burden on jail staff, Douglas County Undersheriff Kenny Massey said.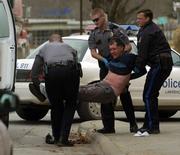 "He can be very demanding," said Massey, who is in charge of jail operations. "He becomes upset, he trashes his cell, he makes a lot of noise."
Gilmore's being in jail serves no long-term purpose, Massey said.
"We manage him," he said. "We don't treat him."
'Overwhelmed'
John Tucker, 41, has battled schizophrenia most of his adult life.
"I've been in treatment," he said. "I deal with it now."
Tucker, who lives in Lawrence and is active in the Douglas County chapter of National Alliance on Mental Illness, said he sympathized with Gilmore. Tucker said he, too, has felt "overwhelmed" by his illness and unable to find "virtue" in his life.
Still, he said, people who are mentally ill have an obligation to themselves and to society to seek treatment.
"If (Gilmore) chooses not to do that, then that decision should be made for him," Tucker said. "That may mean having to go to Osawatomie State Hospital and being kept there until he's ready to get better."
He added, "Jail isn't the answer."
Copyright 2018 The Lawrence Journal-World. All rights reserved. This material may not be published, broadcast, rewritten or redistributed. We strive to uphold our values for every story published.