Robert Gilmore is back on the street and at least one downtown resident isn't happy about it.
"I'm not a heartless person; in fact, I'm a very caring person," said Jim Denman, who lives in an apartment above the parking garage at 10th and New Hampshire. "But this guy is living 100 feet from my front door. He sleeps on the sidewalk, he urinates in public. I've seen him strip down and bathe himself, using a two-liter of water -- in public view."
Denman says he lives in daily fear that he or his daughter will have the misfortune of happening upon Gilmore's frozen, dead body.
"I don't think I should have to put up with that, I don't think anybody should," he said.
Gilmore, 46, is homeless. He's often seen downtown, wrapped in thrift-shop blankets and wearing socks on his hands.
Last year, Gilmore, whose street name is Simon, sat in front of Weaver's department store for several months. A local businessman, who asked that his name not be used, found -- and helped pay for -- a place for Gilmore to stay.
But after a few months, the landlord developed other plans for the house and Gilmore was asked to leave. Now, he's camped on the south side of the Replay Lounge, 946 Mass. He's been there since summer.
'You can't help him'
Contacted by the Journal-World, Gilmore declined comment, noting that he is not a public figure and should be left alone.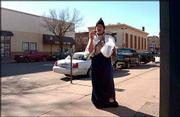 "He's the strangest dude," said Barbara Hogue, an advocate for Lawrence's homeless. "He won't let people touch him. You can't help him; a lot of people have tried."
Several times, Gilmore, who's legally blind, has been arrested for walking in the middle of the streets downtown.
"Just think about the person -- my daughter, maybe -- who happens to look away for a second and hits him with her car. Kills him," Denman said. "That person will be scarred for the rest of their life."
Denman said he's frustrated that police haven't done more to control Gilmore's aberrant behavior.
"Ask yourself -- if he did this in Alvamar or in front of (Kansas University men's basketball coach) Bill Self's house, you don't think he'd be arrested in a minute? You think that would be tolerated?" he said. "There's no way. But for some reason it's OK downtown?"
Police involvement
But arresting Gilmore hasn't done much good, said Lt. Dave Cobb, a spokesman for the Lawrence Police Department.
"He's been arrested so many times -- I'm pretty sure they've given him a permanent booking number there at the jail," Cobb said. "I couldn't begin to tell you how many times he's been arrested. He goes to jail and before you know it, he's right back out."
Lawrence Municipal Court records show that Gilmore has been arrested more than 40 times since 1996, usually for trespassing, urinating in public, disobeying a police officer or "pedestrian on highway."
Earlier this year, Gilmore spent 39 days in jail after being found "smelling of urine and feces" at the Community Building, 115 W. 11th St., and refusing to leave.
Arrest records show Gilmore receives disability payments: $400 a month, according to one report. Another put his income at $250 a month.
Self-determination
Gilmore has little to do with Lawrence's programs for people who are homeless: the Salvation Army shelter, Community Drop-In Center and Lawrence Interdenominational Nutrition Kitchen.
He has rejected frequent offers of help from Bert Nash Community Mental Health Center.
"As a mental health services provider, we can't force people into services; people have a right of self-determination," said Gary Miller, homeless services coordinator at Bert Nash.
Until Gilmore's actions clearly pose a threat to himself or others, Bert Nash's hands are tied, Miller said, noting that sleeping outside in subfreezing temperatures isn't enough of a threat.
"It's not a choice that you or I would make, that's true," he said. "But there are some people who choose to be homeless and, unfortunately, that's their choice to make."
Miller said Denman might have more success if he called the Adult Protective Services office at the Department of Social and Rehabilitation Services.
"If somebody calls, we'll investigate," said Arthurine Criswell, director of the SRS office in Lawrence.
But Criswell, too, warned that someone sleeping outside in the cold does not meet the threshold for being considered a danger to self or others.
"As long as he's not accosting people or showing up in the emergency room with frostbite -- something like that -- there's not a lot we can do," she said. "This is very frustrating to us, too. But as long as he keeps refusing services -- it's like 'You can lead a horse to water, but you can't make him drink.'"
Copyright 2018 The Lawrence Journal-World. All rights reserved. This material may not be published, broadcast, rewritten or redistributed. We strive to uphold our values for every story published.