Robert Shipp has seen the ugly side of mental health reform.
And this week, he'll testify against his own son in Douglas County District Court because of it.
Seven years after lawmakers closed Topeka State Hospital with the understanding that patients would be cared for in community situations instead of a state institution, most agree that reform has worked.
"There are many, many people with mental illness who are living productive lives in our community who, without this movement, would still be hospitalized," said Trish Stuckey, director of adult services at Bert Nash Community Mental Health Center, 200 Maine. "But there are cracks in the system. And for those who fall through those cracks, I'm afraid there's not much of a safety net."
Ed Shipp, 34, is one of the fallen. He's been in and out of state hospitals at least four times since 1991.
"He's been diagnosed as paranoid schizophrenic," said Shipp's father, Robert, who's to testify Wednesday.
Ed Shipp is charged with stealing an oil painting from a Kansas University student's unlocked apartment 11 months ago.
Robert Shipp will testify that he found the painting in the back seat of his car the day his son was arrested. His son had taken the car the night before.
It isn't the first time Ed Shipp has been in trouble. Four years ago, he was sentenced to 32 months at the correctional unit at Larned State Hospital after pleading guilty to aggravated sexual battery.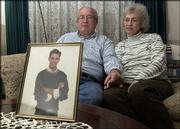 "What happens is they get him stabilized and send him back into the community," Shipp said. "But then his illness kicks in again and he won't have anything to do with Bert Nash, and he goes off his meds. And then he's all out of control again."
If convicted of stealing the painting -- charges include felony burglary, felony theft and possession of marijuana -- Ed Shipp could be sent to prison or returned to Larned State Hospital for 10 years.
"There isn't a place for my son," Shipp said. "He doesn't belong in prison, but his illness won't let him be in the community and, for him, there's nothing in between. My wife and I have decided we can't take him back. We can't handle him."
The ugly side
This is the ugly side of the well-intended reform movement that led to the closing of Topeka State Hospital: Those who don't fit end up in jail or prison.
"This is an ongoing dilemma," said Charlie Rapp, a social welfare professor at Kansas University who helped craft Kansas' reform effort.
"The community mental health centers do not have the authority to force anybody to do anything against their will -- nor should they," Rapp said. "The courts can try, but they're limited in what they can do. And jail, of course, is a poor alternative.
"It's a shame."
State prison officials agreed.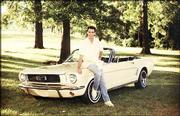 "It's always been a problem, but we're seeing an increase in the numbers of inmates who are seriously and chronically mentally ill," said Bill Miskell, spokesman for the Kansas Department of Corrections.
"There are lots of way to define mental illness, but these are the individuals who, when they get out, will need to be hooked up with community mental health programs because if they go a few days without their meds, they (relapse) pretty quickly and end up coming back," said Roger Haden, deputy secretary at the corrections department.
Prior to its closing, Topeka State Hospital had a 298-bed capacity.
Haden said the number of inmates on psychotropic drugs had more than doubled in the past 10 years.
"It was 7.6 percent in 1995; in 2003 it was 16.5 percent," he said. "It's gone up since then."
Prison officials estimate that between 600 and 675 of about 9,000 inmates are seriously mentally ill.
What to do
State officials aren't sure how -- or whether -- to create a nonprison, noncommunity alternative for people like Ed Shipp.
"Something like that is worth considering, but at the same time I think it's a mistake to say that someone who's mentally ill is not responsible for what they do," said Gary Harbison, director of mental health services at the state Department of Social and Rehabilitation Services.
Douglas County Dist. Atty. Christine Kenney, too, has mixed feelings on the issue.
"I've said many, many times that the criminal justice system is not the place to try to deal with individuals suffering from mental illness," Kenney said. "But at some point you have to balance concern for those individuals with the safety of the community at large."
Kenney said her office tried to steer low-level offenders toward probation and Bert Nash. Felonies, she said, are another matter.
"I have to protect the rest of the community," she said.
Kenney declined comment on Ed Shipp's case.
Robert Shipp said he dreaded having to testify against his son.
"This doesn't seem right to me," he said. "I mean if Ed had Alzheimer's, nobody would be talking about putting him in prison. Alzheimer's is a disease of the brain; so is schizophrenia.
"I don't think Ed had any more idea about what he was doing than somebody with Alzheimer's would have."
Copyright 2018 The Lawrence Journal-World. All rights reserved. This material may not be published, broadcast, rewritten or redistributed. We strive to uphold our values for every story published.