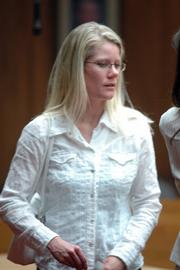 A nursing home caregiver accused of stealing morphine from two patients pleaded guilty this morning in Douglas County District Court.
Erica A. Bay, 29, who appeared with her attorney before District Judge Paula Martin, pleaded guilty to two counts of mistreatment of a dependent adult.
The judge set Bay's sentencing date for 10:30 a.m. May 10 in district court. She is free on bond.
The thefts took place last year at Pioneer Ridge Retirement Community, 4851 Harvard Rd.
Prosecutors said Bay stole morphine gel out of skin patches intended for a 79-year-old woman and a 96-year-old man who died soon after. Authorities said there was no connection between the missing painkiller and the man's death.
A nursing-home manager said at the time that no resident had experienced pain because of the alleged thefts.
Copyright 2018 The Lawrence Journal-World. All rights reserved. This material may not be published, broadcast, rewritten or redistributed. We strive to uphold our values for every story published.