Topeka — Pfc. Richard A. Faith Jr., of Ozawkie, on Thursday held his almost 1-year-old twins - one under each arm - as he talked with family and friends.
"They were born on my first combat tour," said Faith, 30, who returned from Iraq in November and now is headed there again.
"I'm going to take care of the rookies" when he returns to the war, he said.
Faith was one of about 200 soldiers from the 1st Battalion, 108th Aviation of the Kansas National Guard, who participated in a departure ceremony at the Kansas Expocentre.
The soldiers will train at Fort Hood, Texas, for several months and then head to Iraq for approximately one year.
More than 1,000 people attended the ceremony, including Gov. Kathleen Sebelius and Maj. Gen. Tod Bunting, the adjutant general of Kansas.
Eighteen people from northeast Kansas came to support Staff Sgt. Tim Sullivan, of Pomona.
"We're very sad to see him go, but very proud that he is representing our family and our country," said his sister, Becky Twedt, of Lawrence. Also on hand were his wife, Sherry, daughter Kelsey, 13, and son Shawn, 11.
Kelsey said she was going to miss her father "a lot" and looked forward to communicating with him through e-mails and Web cam.
Don Hill, of Pomona, was saying goodbye to Spc. Jacob McDougal, who is married to his granddaughter. "He has been a blessing to the family," Hill said.
The 1st Battalion, 108th Aviation is headquartered in Topeka with companies there and Salina, plus Austin, Texas, and Boone, Iowa. It is an air assault helicopter unit, flying UH-60 Black Hawks.
The unit will provide air support for ground forces and help transport troops and equipment.
Photo Gallery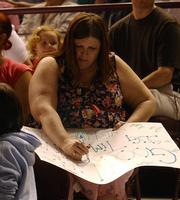 108th Aviation
Sebelius noted that she was piloted across northeast Kansas last month by a helicopter from the unit to survey storm damage in Lawrence.
Through wars and disasters "the people of Kansas have called you for your help, and you have responded without hesitation," Sebelius told the unit. She vowed that the state would help the soldiers' families while they were gone.
Ramona Miller, of Topeka, has said goodbye to her husband, Staff Sgt. John Miller, before - he served in Bosnia in 2003. But she said this time was tougher for her and their 11-year-old son, Scott.
"We've tried to ignore it this time, but now it is hitting us in the face," she said.
Copyright 2017 The Lawrence Journal-World. All rights reserved. This material may not be published, broadcast, rewritten or redistributed. We strive to uphold our values for every story published.