A Lawrence-based member of the Kansas National Guard was killed in a bomb attack in Iraq on Monday, officials said Tuesday.
Spc. Jessie Davila, 29, of Greensburg, was a member of Company A in the 2nd Battalion, 137th Infantry. It was not immediately clear if other members of the unit were injured in the bombing.
The 120-member Company A is based in Lawrence.
State Rep. Dennis McKinney, D-Greensburg, said Davila had entered the Marines upon graduating from Greensburg High School, then returned after his Marine enlistment to Greensburg and joined the Guard.
Davila was a "good kid" with "good manners," McKinney said. Other Greensburg residents said Davila attended St. Joseph Catholic Church; church members were unavailable for comment Tuesday.
Funeral services were pending.
"A community like Greensburg, you know all the kids," McKinney said. "It hits home - you understand the cost of the war."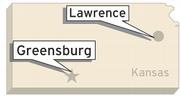 The 500-member battalion, with headquarters in Kansas City, Kan., and another company based in Wichita, deployed to Iraq in August. The unit was given the mission of operating the Joint Visitors Bureau near Baghdad and providing security for high-level visitors entering Iraq.
State Rep. Lee Tafanelli, R-Ozawkie, recently returned from a year-long deployment in Iraq commanding the Guard's 891st Engineering Battalion.
"It hits really close to home," Tafanelli said. "That's a tough thing for a unit to endure, is the loss of one of their soldiers. But they're a great group of soldiers, and they'll get the mission done."
State officials on Tuesday praised Davila for his sacrifice.
"Spc. Davila has made the ultimate sacrifice serving our country and he will be remembered as a hero," Gov. Kathleen Sebelius said in a prepared statement.
"The Kansas National Guard is truly one big family and anytime one of our own is taken from us, we all grieve," said Maj. Gen. Tod Bunting, the state adjutant general. "Our hearts and prayers go out to Jessie's family and we will do everything in our power to support them in this time of loss."
Davila is the 25th Kansan to die in Iraq and the fourth member of the Kansas National Guard.
Davila's death is the first Kansas National Guard death in Iraq since May 2005, when Spc. Derrick J. Lutters, of Goodland, was killed while serving with the 891st Engineer Battalion.
Sgt. 1st Class Clinton L. Wisdom, of Atchison, and Sgt. Don Clary, of Troy, died in November 2004 while also providing security for the Joint Visitor's Bureau. The two were killed when their vehicle was struck by a suicide bomber while escorting a diplomatic convoy.
From the Lawrence area, two soldiers have been killed in Iraq. Army Spc. Lucas Frantz, 22, of Tonganoxie, died Oct. 18; Lance Cpl. Christopher B. Wasser, 21, died April 8, 2004.
Copyright 2018 The Lawrence Journal-World. All rights reserved. This material may not be published, broadcast, rewritten or redistributed. We strive to uphold our values for every story published.