Sgt. Joey Kean was in Iraq. His Humvee was surrounded and cut off.
"It was a little chaotic," Kean said as he remembered that day in Baghdad earlier this winter. "I had to shut the Humvee a couple of times and say, 'All right, kids, back up.'"
Kean, a member of Alpha Company, 2nd Battalion, 137th Infantry of the Kansas Army National Guard, a unit based in Lawrence, had something in his Humvee that was attracting a lot of attention from the Iraqi children and some of their parents. They wanted the dozens of shoes and socks the Americans were giving away.
Kean estimated that at one point there were 50 or more children trying to get at the shoes.
"It was nice to help them," said Kean, 34, a Lawrence native who is ending a two-week visit with his family before returning to Iraq this weekend.
"A lot of the kids were on their own," Kean said. "A dad brought his two kids over and they waited patiently. We brought them over ahead of the group and got them some shoes and socks."
Photo Gallery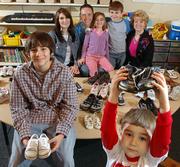 Shoes for Iraq
The shoes and socks had been collected in Lawrence and sent to Kean by his mother, Susan Mozykowski, director of Sunshine Acres Montessori Preschool and Child Care Center, 2141 Maple Lane. The idea for the collection came from a phone conversation she had with her son after he was sent to Iraq in November.
Kean had mentioned to Mozykowski that he had seen a lot of Iraqi children who didn't have shoes and the weather was getting colder. Mozykowski decided to start collecting shoes and talking about the matter with friends and acquaintances. A collection was started at her preschool, and others outside the school also contributed. About 50 pounds of shoes and socks were collected.
"I thought it was something we could do," she said. "We just put a basket out front."
Mozykowski has since launched another drive to collect shoes and socks. A new shipment is now being mailed to Kean's unit for distribution. There are dozens of donated items, from everyday shoes to running shoes and flip-flops.
"It's amazing to me because people love this," Mozykowski said. "Giving shoes is an easy thing to do and I think it makes people feel good."
Kean, a sales manager with the Laird-Noller auto dealership in Topeka when he's not on deployment, expects to be in Iraq until fall. Distributing shoes to needy Iraqi children is one way to win the hearts and minds of the populace, Kean said. His experience with Iraqis has been positive.
"In talking to Iraqi families, they are very supportive of us being there," Kean said. "On patrol one day I had a guy come up to me and he said, 'We love you. You're safe here; you don't even need your guns. We're glad you're still here.'"
But patrolling Baghdad streets is still dangerous, and that danger was emphasized Feb. 20 when a member of Kean's platoon was killed. Sgt. Jessie Davila, Greensburg, was killed by a roadside bomb. Kean was not at the scene of the bombing but said he and others in the unit have fond memories of Davila.
"It was a tough loss. He was a great guy," Kean said.
Military service is nothing new to Kean's family. His father, Gene Kean, was an Army helicopter pilot. His stepfather, Richard Mozykowski, has been in the Army and Guard for 36 years and will be retiring this year.
Since Kean returned home two weeks ago he has had a chance to enjoy time with his wife, Danelle, and their four children, ages 3 to 13, as well as see friends and other family members. Susan Mozykowski said she finds it difficult to express how wonderful it has been to see her only son.
"He's grown so much from this experience," she said. "He really believes in what he's doing. It's a very real danger over there, and only my faith in God keeps me from being a basket case."
How to help
A drive to collect shoes and socks for Iraqi children will continue at least into May, Susan Mozykowski said. Donations can be dropped off weekdays at Sunshine Acres Montessori Preschool and Child Care Center, 2141 Maple Lane. Boxes of shoes and socks will be shipped periodically to Iraq, she said. Monetary donations also are being accepted to help pay for mailing costs.
Copyright 2018 The Lawrence Journal-World. All rights reserved. This material may not be published, broadcast, rewritten or redistributed. We strive to uphold our values for every story published.