Seniors Drew Huff and Erin Miller were a combined 0-for-6 on the day.
Naturally, Lawrence High softball coach Reenie Stogsdill was exactly where she wanted to be in the batting order down a run with two outs in the bottom of the seventh.
"If it could happen any way, that's how I'd want it - with Drew and Erin coming to the plate with the game on the line," Stogsdill said.
With their perfect record on the ropes, the two seniors came through in the clutch for the Lions.
Huff drilled a single to center to tie it, and Miller's sharp grounder past the shortstop clinched a dramatic 3-2 come-from-behind victory over Olathe Northwest on Thursday at Holcom Park. The Lions held on against the Ravens and the weather to take the second game, 4-3, and complete the sweep.
"We knew we could get it done," Huff said. "We're better than this team, so everybody stepped up when it was necessary to."
That was especially the case in Game One, when Lawrence waited until its last out before staging a rally.
Dequesne Sprow smacked a one-out single, but after a strikeout, the Lions were down to their final at-bat.
Marian Phelps hit a hard grounder but right at second baseman Nicole Hoganheimer. The infielder had problems getting it out of her glove, and after a bobble and drop, Phelps managed to beat out the throw at first.
Huff made sure to not let the opportunity pass, picking on a high fastball and lining it to center to tie it at 2.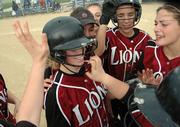 "I felt like I had to step up for my team," Huff said, "and get it done."
With a two-strike count, Miller slammed a single up the middle to score Phelps from second. The senior was later mobbed by teammates.
"I was just praying I would hit that ball in a hole because I hadn't been able to all day," Miller said. "I'm really glad that went through."
Speed almost ended up killing the Lions in Game Two.
Lawrence scored three runs in the first - with hits from Huff, Sam Hays, Amanda Weishaar and Lauren Kelly - but inclement weather looked to be on the way with increasing winds and heavier rain.
In the bottom of the fourth, Stogsdill decided to speed things up. Because the game was not official - but would be after Lawrence recorded three more outs - the LHS coach instructed her last two hitters of the inning to strike out on purpose even after Kelly led off with a single.
Mariah Riling and Phelps did just as they were told, whiffing at strike-three pitches 20 feet before they reached the plate.
The plan nearly backfired, as Northwest rallied for two runs in the top of the fifth.
Riling, who was making her first-ever varsity start, recovered to get Taryn Dickerson on a groundout to second with the bases loaded.
"Mariah did a really good job of staying in there and pitching," Miller said. "I don't think many people could do that with the rain coming like it was."
Just after that, the skies cleared, and sunshine peeked through the clouds, forcing the teams to go the full seven innings.
"I swear we were going to get hit by a bomb," Stogsdill said, "but it didn't happen."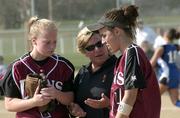 The Lions improved to 4-0.
Lawrence 3-4,
Olathe Northwest 2-3
Game One
Olathe Northwest 000 200 0 - 2 6 3
Lawrence 010 000 2 - 3 6 0
W - Dequesne Sprow. L - Hannah Dale.
2B - Sprow (LHS), Lauren Kelly (LHS).
Lawrence highlights - Erin Miller, 1-for-4, game-winning single; Sprow 2-for-3, double, RBI, run; Kelly 1-for-3, run.
Game Two
Olathe Northwest 000 021 0 - 3 8 2
Lawrence 300 010 X - 4 9 2
W - Mariah Riling. L - Coburn.
2B - Drew Huff (LHS) 2, Amanda Weishaar (LHS). 3B - Riling (LHS).
Lawrence highlights - Huff 2-for-3, two doubles, two runs, stolen base; Weishaar 2-for-3, double, run; Kelly 2-for-3, RBI; Riling 1-for-3, triple.
Copyright 2018 The Lawrence Journal-World. All rights reserved. This material may not be published, broadcast, rewritten or redistributed. We strive to uphold our values for every story published.