Saturday was quite a day for Lawrence High baseball player Nick DeBiasse.
In the Lions' home opener - DeBiasse's first varsity appearance on the mound - LHS jumped on Lee's Summit North for a 7-4 victory at Ice Field.
DeBiasse earned the win, and he helped LHS at the plate as well, going 2-for-3.
"DeBo did a great job. He had a no-hitter going there for a while and was working his slider and his two-seam fastball, had control of them and was very effective," LHS coach Brad Stoll said. "I was very pleased with our pitching in the first game, and for DeBiasse's first varsity start he was pretty good - we'll take it."
In game two, however, the Lions' bats were tamed in a 6-2 loss.
The pitching wasn't entirely glamorous for the Lions in either game, as catchers Patrick Johnson and Brett Sims got a workout blocking balls in the dirt and chasing down wild pitches.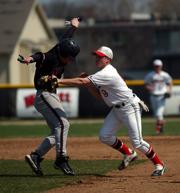 "I thought our pitchers pitched pretty good, other than a few walks here and there," said Sims, who caught for losing pitcher Daniel Green during the second game. "But I blame those little mistakes on me, not the pitchers - that's just me."
Johnson and Sims did their best behind the plate and next to it. Johnson, who caught game one, was 2-for-2, and Sims went 2-for-3 in game two.
"I didn't have my best game, and (it was) the first time I played varsity this year, so I was just a little bit nervous and finally was able to pull through," Johnson said.
DeBiasse was stifled in game two by the Broncos, going 0-for-3 while playing first base.
"We didn't get the same seeing-eye ground balls, we didn't get the same hard-hit balls as we did in the first game," DeBiasse said. "We kind of just dug ourselves a hole too deep to get out of."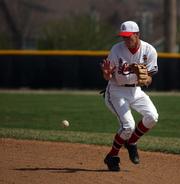 Stoll said he was to blame for the sudden lack of production, which included three straight three-up and three-down innings.
"I did a bad job of getting these guys ready to play the second game - I'll take responsibility for that. Because we were hot the first game, the enthusiasm and the energy was great, and then we came out in the second game pretty flat with not much juice in the bats. And that starts with me," Stoll said. "We've just got to find a way to hook it up for two games because we play a doubleheader on Tuesday, and we're going to have to do it."
Stoll said the fact it was the Lions' first doubleheader of the season was no excuse.
"You've got to win two games in a doubleheader in your regional to go to state," he said. "And when you get to the state tournament you've got to win two games on the second day to win the whole thing. So you're going to have to play a doubleheader at some point in your career if you want to win a state championship, so we've got to find a way to hook it up for two games in a row."
The Lions will play host to a doubleheader against Leavenworth on Tuesday at Ice Field. The first game is slated for a 4:15 p.m. start.
Copyright 2018 The Lawrence Journal-World. All rights reserved. This material may not be published, broadcast, rewritten or redistributed. We strive to uphold our values for every story published.