Kansas University's football team is relatively healthy, except for previously reported injuries to Gary Green, Eric Washington, Todd Haselhorst and Rodney Harris.
Most of the expected first team was playing Saturday, and only one minor injury came out of the scrimmage: Defensive end Rodney Allen limped off the field with an apparent left ankle tweak.
¢ Position changes: A couple of players were seen at new positions Saturday. Among them was Tang Bacheyie, a running back who has moved to safety, and Justin Thornton, a wide receiver who also was seen in the defensive secondary.
¢ Ringwood done: Mangino informed media Saturday that troubled fullback Bruce Ringwood no longer was on the team.
Last month, Ringwood was arrested for assault for the second time this school year, and that ultimately was the final straw for Mangino.
Photo Gallery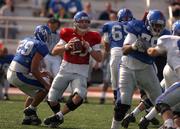 Spring open practice
"We are assisting him right now, trying to help him with Division II opportunities," Mangino said. "We really liked Bruce, but we felt like it was in our best interest and his to part company."
¢ Appeal planned: Defensive tackle Eric Butler continues to work out with KU's team as his eligibility is being fought.
Kansas is petitioning the NCAA for added eligibility for Butler, but last week that plea was denied. KU is appealing the verdict with new information.
Butler attended classes at DeVry five years ago, thus starting his eligibility clock. He has played only two seasons of college football, though, and just one at Kansas.
¢ In attendance: Several former players attended the scrimmage, including Nick Reid, Matt Thompson, Brian Luke and Danny Lewis. Also in attendance was KU signee Jake Sharp, who just finished a record-breaking career at Salina Central.
¢ Next: KU's last spring practice open to the public is its last - the spring game, which will be held at 7 p.m. on April 14 at Memorial Stadium.
Copyright 2018 The Lawrence Journal-World. All rights reserved. This material may not be published, broadcast, rewritten or redistributed. We strive to uphold our values for every story published.