Don't let their smiles fool you.
Lawrence High's Laura Wilson and Lauren Kelly want nothing more than to slam the ball hard - and slam it right at their opponents.
"Those are the hits that we like," Wilson said. "We just take every opportunity we can to smash them."
The No. 1 doubles duo's recent aggressiveness paid dividends Wednesday, as the pair picked up two of the Lions' three tennis victories at a quadrangular at Lawrence High.
Wilson and Kelly sandwiched 8-3 and 8-1 victories around their only loss, an 8-5 setback to Lauren Hansen and Chelsea Link of Shawnee Mission Northwest.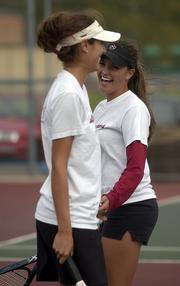 "Early in the season, they won some matches by simply retrieving - hitting lobs and running balls down," LHS coach Dick Wedel said. "It's good to be able to do that, but you need your partner at the net to be able to put the ball away."
Wilson and Kelly took turns doing that Wednesday, forcing the ball through stiff winds at the Lawrence Tennis Center.
"The wind was a huge factor today, and we weren't quite used to it," Wilson said, "but I think we did really well overall."
Part of their aggression could be attributed to Wedel, who offers a Gatorade if a smash hits an opposing player.
But most now should come from the team's increasing success with harder hitting.
"I'm glad to see that happening," Wedel said, "because both potentially could have big games."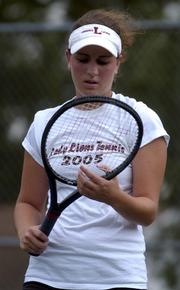 Over time, Wedel said he believed the pair would be best served with both team members at the net.
"I think that could be pretty imposing," Wedel said. "They're both tall with good reach and good overheads."
The only other victory for LHS came from Meredith Bush and Kylie Fritzel in No. 2 doubles, winning 8-4 over Blue Valley West's Amanda Eisenreich and Jordan Hamilton.
LHS came away empty-handed in singles play, falling in all six matches.
The result was the opposite of Monday's dual with Free State, where LHS won no doubles matches but won three of six singles showdowns.
Next up for the Lions is the Sunflower League meet Tuesday at Shawnee Mission East.
Wedel said his team, which finished fourth in last year's league meet, would feel no pressure going into the 12-team event.
"There are so many good players in the Sunflower League - if you come against one in the wrong order, you're pretty limited in what you can do," Wedel said. "But I think our girls are playing hard and having fun. We'll see what happens."
Copyright 2018 The Lawrence Journal-World. All rights reserved. This material may not be published, broadcast, rewritten or redistributed. We strive to uphold our values for every story published.