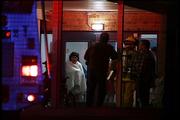 One man was transported to the hospital early this morning as a result of an overnight blaze that damaged an apartment complex in south Lawrence.
Lawrence-Douglas County Fire & Medical personnel were called about the fire at 2:28 a.m., which broke out in a bedroom of a second-floor apartment in the Prairie Ridge Place apartment complex, 2424 Melrose Lane.
Deputy Fire Chief Mark Bradford said the fire, which was caused by the resident smoking in bed, caused about $125,000 in damage.
Bradford said the occupant of the apartment, shut the doors to keep the fire confined and notified authorities. The man was taken to Lawrence Memorial Hospital and checked for smoke inhalation before being released, the deputy chief said.
Others in the apartment building were evacuated to another building where they waited for firefighters to extinguish the blaze and ventillate any carbon monoxide from the rest of the building, Bradford said.
Fire damages apartment
Copyright 2018 The Lawrence Journal-World. All rights reserved. This material may not be published, broadcast, rewritten or redistributed. We strive to uphold our values for every story published.