When I joined the Journal-World staff last month as the new high school sports editor, I found some nice perks waiting for me.
There was a spacious clean desk, business cards that actually had my name spelled correctly and easy access to the basement stairs should a tornado siren sound during my shift.
However, the most useful gift has been a collection of notebooks charting the results of area high school football teams dating all the way back to 1970. An in-depth look inside that particular treasure trove earlier this week confirmed a gut feeling I'd developed while writing up game reports this fall: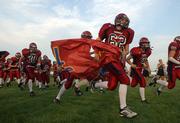 The opening three weeks of the 2005 season have been a rousing success for the 14 football programs we cover.
Area schools carry a cumulative 31-11 record into this week's matchups - a .738 winning percentage. That means nearly three out of every four games involving an area team have ended, for local fans anyway, on the right side of the ledger. And unlike a certain area university that shall remain nameless, those victories haven't come against preseason cupcakes, but within the unfriendly confines of league play.
Dating back to 1990 - when the notebooks begin to look awfully worn, and my attention started to wane - that mark is the best at this point in a season by a long shot.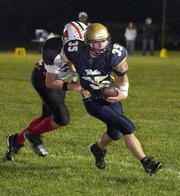 Among those most responsible for this elevated performance are the six schools that own perfect 3-0 records.
Two of them, De Soto and Eudora, have developed a recent history of hot starts and come as no surprise.
Another, Veritas Christian, doesn't yet know what it's like to lose in the opening three weeks of a season, also starting 3-0 last fall during its inaugural campaign.
And a fourth, McLouth, is busy showing last year's 3-0 start - which ended a 20-game losing streak - was no fluke, as the Bulldogs are off to another strong opening.
However, it's the two remaining schools that grabbed my attention.
Let's start with Perry-Lecompton, where coach Mike Paramore admitted he didn't know the last time the Kaws enjoyed the view from a 3-0 perch.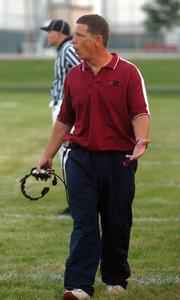 "It hasn't happened since I've been here," said Paramore, now in his fifth season.
Try 1989 - when most of the players on this year's team were in diapers. It's the longest drought between 3-0 starts of any of the area teams.
"We knew this group of guys was going to have a chance to be a pretty good group when they came in as freshmen," Paramore said. "They're doing the right things. : The success they're starting to have is something they've learned."
And who rounds out the six-pack? None other than Lawrence High, which, to my surprise, hadn't accomplished the feat since 1993, when the Lions went on to win one of their 26 state titles.
Of course, with that tradition, it's strong finishes - not strong starts - that people want to talk about.
"It's like I told the kids - the bandwagon will fill up very quickly if we continue to win," LHS coach Dirk Wedd said. "Since the split (with Free State), it's been a long 10 years at Lawrence High trying to get it back to a state-championship level.
"I'm not saying we're there. We've got a long, long ways to go. Hopefully, we can build some momentum and be there when it counts at the end of November."
Simply perfect
Six area high school football teams are undefeated three games into the season. The schools, final record last season and next opponent (all games Friday):
¢ Lawrence High 2004: 5-6 Next: SM East at Haskell Stadium
¢ De Soto 2004 : 7-3 Next: Wellsville at De Soto
¢ Perry-Lecompton 2004: 3-6 Next: Santa Fe Trail at Perry
¢ Veritas Christian 2004 : 7-3 Next: at Wichita Trinity
¢ Eudora 2004 : 8-4 Next: at Anderson County
¢ McLouth 2004 : 4-5 Next: at Jefferson Co. North
Not too Shabby Five other area teams are off to 2-1 starts. They are: Free State 2-1 Baldwin 2-1 Mill Valley 2-1 Ottawa 2-1 Tonganoxie 2-1
Copyright 2018 The Lawrence Journal-World. All rights reserved. This material may not be published, broadcast, rewritten or redistributed. We strive to uphold our values for every story published.