Free State High's two best football players look exactly alike, except that one is taller, and they talk exactly alike, except that one is more talkative.
Ryan, the quarterback, is the taller, chattier one. Brian, the running back, tends to wait his turn, except that it was Ryan who followed Brian in birth by 10 minutes.
The juniors are three-sport stars, playing basketball in the winter and sprinting for the track team in the spring. They share friends and tastes, clothes and secrets, and they count each other as best pals. Yet, even when they talk about something they did together, they reveal they have their own identities because they seldom say "we," rather "I."
They also share memories, not all of them good.
"We didn't have school that day," Ryan recounted. "I was at Holcom, playing basketball all day. The weird thing was my dad didn't have to go to work that day. He just went."
His wife Rebecca and her three sons, Marcus, Brian and Ryan, waited for Marcus Murphy to join them back at the house when the clock struck 5.
"When he didn't come home when he usually does, we were getting kind of worried," Ryan remembered. "Then all the sudden this cop came to our house. I didn't know what was going on at that time because I was just in the sixth grade, still pretty young. He started talking to my mom, and I knew it couldn't have been good, because my mom started crying. Then she came into the room and said, 'Dad was killed in a car accident.' It was the hardest thing I ever went through in my life."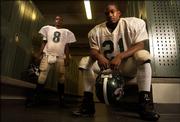 Said Brian: "He worked with computers, fixed printers and copiers and things like that, drove around from place to place. He was driving to Marysville the day it happened."
The day their lives changed. The day Rebecca began to do everything she could to fill the void. To spend 10 minutes with the Murphy twins is to believe she has done a remarkable job wearing the hats of both parents, with the help of her father, Berner Newman, aka Grandad.
The young men look you in the eye when speaking, smile a lot, give a firm handshake. They are generous with please and thank you. They are more men than boys at the age of 16.
"I always give credit to their dad," Rebecca said. "If it wasn't for him being there with them and spending time with them when they were growing up, I'm sure they wouldn't be the kids they are today."
Marcus attended all their practices and games and coached them in baseball, Rebecca said.
"He would always make the comment that he could probably have a bigger, better job, but it was more important for him to spend time with his kids," said Rebecca, a bookkeeper at Trailridge Graystone Apartments. "I understand that now. It makes me know it's important to spend time with the kids because you never know what tomorrow's going to bring, and you can't get that back. The job will be there in time."
Losing a father at any age is painful, but at 12? Is there a worse age? Yet, the only noticeable scars the boys have are those on their hands. They both were born with six fingers. A string was tied around the extra fingers to cut off the blood flow and the skin dropped off to leave them with five fingers.
"They got that trait from their dad," Rebecca said. "He was born with six fingers too. That's the Murphy in them."
Ryan and Brian aren't identical in every way.
Ryan: "I like olives."
Brian: "I don't like olives at all."
Rebecca: "They both hate tomatoes."
They like the NFL's most famous twins, New York Giants running back Tiki Barber and Tampa Bay Buccaneers cornerback Ronde Barber.
"I'll probably go with Ronde because when I'm on defense, I play his position," Ryan said.
"Tiki I guess because we're both running backs," Brian said. "He can make big plays like I can, and he made it all the way to the NFL."
Right then, Carl Smith, the running backs coach, walked by and Brian showed he's not only quick to hit the holes, but to show gratitude.
"That would be the man right there," Brian said of Smith, formerly of the Kansas University football staff. "He's helped me so much this year. He's helped me getting stronger, picking up my feet running, running through holes quickly, running through arm tackles. He stays on me every day, and we run through the gauntlet every day."
Brian and Ryan Murphy give the Firebirds their best chance to pull off the upset tonight at Memorial Stadium in the intra-city rivalry that pits the bigger, stronger, deeper Lions of Lawrence High against the more explosive underdogs from Free State.
Ryan leads the Sunflower League with 1,416 yards in total offense. He has passed for 895 yards, rushed for 504, and has 17 receiving yards. Brian is the team's leading rusher with 835 yards, including 226 on 18 carries last week against Topeka High.
The sons gave their mom ample warning about protecting her car in the event of an upset.
"They told me not to forget to park it in the garage," Rebecca recounted. "Everybody knows where we live."
On the corner of Bob Billings Parkway and Monterey. In other words, right across the street from Lawrence High territory. Can you imagine the Murphy twins behind the powerful Lawrence offensive line?
They aren't about to waste time fretting. They're having a good time where they are and have reason to feel secure, even when the blocking breaks down.
"I know he's with me every day, especially when I'm playing in games," Brian said of his father. "I know that's what keeps me safe in games. I always pray before a game, tell him I love him before every game, definitely keep him in my heart at all times before I do anything. Not just football. Anything."
Copyright 2018 The Lawrence Journal-World. All rights reserved. This material may not be published, broadcast, rewritten or redistributed. We strive to uphold our values for every story published.