Lahaina, Hawaii — A rookie mistake cost Micah Downs valuable court time in Kansas University's basketball-season opener against Idaho State.
Prior to KU's first game, Downs re-sprained his left ankle, which he originally injured back in September during Boot Camp.
"The way I did it is, I didn't listen to my trainer," Downs said. "We were out at walk-through, and he told me to put my braces on, and I didn't put 'em on. It's my fault, but now it's coming along all right."
Downs, a freshman guard who was unable to play against ISU, said the only reminder of his sprain was a little soreness, which he shrugged off during Wednesday's 102-54 rout of Chaminade at Lahaina Civic Center.
The 6-foot-8 Downs scored a career-high 13 points and grabbed a career-best seven rebounds in 19 minutes.
Is he making a bid for increased minutes?
"I don't know about that," Downs said. "Coach is trying to figure out combinations, the best combinations right now. I'll wait it out. It'll all work out."
Photo Gallery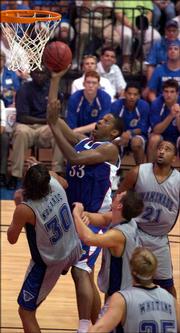 KU vs. Chaminade
Downs hit four of seven shots, including two of five threes. He iced three of four free throws and looked fluid running the court against the NCAA Div. II team.
"I think it helps my confidence, but this helps everybody's confidence, Julian, C.J., too," he said, peering at teammates C.J. Giles (career-high 21 points) and Julian Wright (career-high 10 points).
"We definitely gained coming out here," he said of Maui, where KU went 1-2. "We were down 16 to Arizona and came back and tied the game up. We lost to Arkansas, but I think we made a lot of progress. We played great against Arkansas, but didn't execute at the end."
The victory should not be shrugged off, Downs indicated.
"There definitely was pressure tonight," he said. "We had lost two tough games and needed to get a win. We just wanted to win a game, and this will help us."
Copyright 2018 The Lawrence Journal-World. All rights reserved. This material may not be published, broadcast, rewritten or redistributed. We strive to uphold our values for every story published.