Lahaina, Hawaii — It's not the same as beating No. 9-ranked Arizona or unrated Arkansas.
But a victory over Chaminade - a lopsided 102-54 stabbing of the Silverswords Wednesday in the seventh-place game of the Maui Invitational - definitely is something Kansas University basketball coach Bill Self is thankful for.
"We shouldn't be giddy about winning today," Self said after the Jayhawks hit 56.3 percent of their shots and outrebounded the NCAA Div. II team, 50-27. "But we played well today. We got a little better every day we were here."
KU's coach admitted he entered the contest a bit concerned.
Chaminade is 4-60 all-time at its own invitational, but because of those victories against Davidson, Providence, Stanford and Villanova, as well as a win over Ralph Sampson-led Virginia in Hawaii, it forever is known as a giant-killer at Lahaina's Civic Center.
Photo Gallery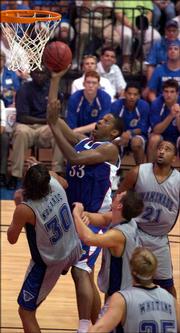 KU vs. Chaminade
"Oh yes, I was real worried," Self said of his pregame mood. "In all honesty, there was some pressure on us to win today. Chaminade had Michigan State down four the first half, and it was a four-point game at halftime. They had Maryland down by 11 the first half, then ran out of gas. It's obviously what happened again today."
The Swords looked good enough at times in a 98-69 loss to Maryland and an 89-67 loss to MSU that Self addressed his team more than once about being focused for the seventh-place game.
"We had a scouting report meeting where coach talked about what this means. And right before the game, coach said how important this game is to play well and get better," forward Christian Moody said after scoring four points in 15 minutes. "It's a good feeling to get this win. We got better and better each day we were out here. We started out anxious and nervous, but didn't end that way."
KU sophomore C.J. Giles personally put away Chaminade early. He hit his first nine shots - all in the first half - and had 18 of his career-high 21 points at the break as KU led, 46-29, at halftime.
"I guess I was more comfortable than the first two games," said Giles, who tied Mark Randall for most field goals made without a miss. Randall also hit nine straight shots, his feat coming against Rider in 1990.
"I wasn't nearly as nervous as I was against Arizona. I just felt comfortable."
He was stunned to learn he had tied Randall in the KU record books.
"A record? I had no idea nine straight was a record," said Giles, who missed a midrange jumper to end the stretch.
His previous high was 12 points versus Arkansas a day before. His 18 points in the first half were most by a Jayhawk since Wayne Simien scored 18 in the second half against Oklahoma State last season. What's more, his nine first-half field goals were most by a Jayhawk since Nick Collison netted nine in the second half against Duke in 2003.
"It was good to see C.J. score like that, good to see all our guys score," Self said. "We're so young. All these guys need to play. C.J. is one of our more experienced players, and he averaged two points a game last year."
Jeff Hawkins, who missed his only shot, was the only Jayhawk who failed to tally a point. He did have five assists and four rebounds, however.
Brandon Rush hit seven of 11 shots for 17 points, while Sasha Kaun had 15 points, Micah Downs 13 and Julian Wright 10. Downs had career-highs in points and rebounds (7).
Even Matt Kleinmann got in the act with a career-high six points in seven minutes.
"Two people who really needed reps today were Julian and Micah," Self said of the freshmen. Wright had a career high 10 points and career-best six boards. "It was good to see them get reps and play well."
KU led, 12-8, six minutes into the contest, then effectively ended any of Chaminade's fans' hopes for an upset.
Julian Wright hit a jumper and Downs had a tip to open an 11-0 run that gave KU a 23-8 advantage.
Then Giles put on a show, icing an inside shot, tip and two straight outside shots before Rush ended that streak with a hoop of his own off a feed from Chalmers.
The KU fans at the Civic Center cared less the victory came against a Div. II team, roaring throughout the second half.
Kleinmann scored six points in a two-minute span in the second half. Also, Jeremy Case iced a three and Stephen Vinson a three. Case's three gave KU its final points.
"Things didn't go as scripted as we hoped," Self said of the Jayhawks' 1-2 record in the Maui Invitational. "We got better the whole time we were here. We had a bad first game, pretty good game yesterday as it turned out after watching tape and better today. The first day we were anxious, nervous, the second day a little anxious and nervous. Today we were relaxed team. We gained from being here."
KU's traveling party will lounge in Hawaii today and board a midnight flight, then return home Saturday. Next game is Thursday's 8 p.m. home battle against Nevada.
Copyright 2018 The Lawrence Journal-World. All rights reserved. This material may not be published, broadcast, rewritten or redistributed. We strive to uphold our values for every story published.