Today's foe, Chaminade, is an NCAA Div. II school with an all-time record of 4-59 in the tournament. The victories have come against Davidson, Providence, Villanova and Stanford. The Silverswords also beat Virginia and Ralph Sampson in a game played in Honolulu.
Chaminade, which fell to Michigan State, 89-67, in the first round, led by 11 in the first half before succumbing to Maryland, 98-69, Tuesday.
"As usual, we'll have our hands full. They are a great club," Chaminade coach Matt Mahar said after watching KU's loss to Arkansas. "That was a great game. To watch that lob play at the end, called in the huddle, was fantastic."
He was referring to Jeff Hawkins' lob to C.J. Giles that gave KU a 64-63 lead at :26.1 seconds.
"Kansas is big, tough, fast, has good guards," Mahar said. "My team is confident. We are not as deep as we need to be."
The big question: Can the Silverswords knock off KU?
"I wouldn't say we can beat Kansas or cannot," Mahar said. "We'll come to play, and hopefully both teams will play well, and it will be a good game."
KU coach Bill Self is taking nothing for granted.
Photo Gallery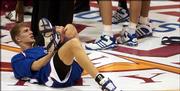 KU vs. Arkansas
"Chaminade has been more than capable playing against anybody in the tournament," Self said. "They had Maryland down by 11 in the first half. We'll have to be mature and come out and play with some energy."
Against Maryland, the Swords were led by Chris Reaves, a 6-3 guard who had 13 points off 5-of-14 shooting.
¢ Brewer productive: Arkansas standout Ronnie Brewer, who was guarded by Brandon Rush, Micah Downs and others, scored 21 points off 7-of-21 shooting. He hit six of nine free throws.
"He is a great player. I think I matched up pretty well with him," said Rush, who also guarded Arizona's best player, Hassan Adams. "He moved well without the ball."
"I didn't think we did great," Self said of the defense on Brewer. "His stats weren't very good shooting the basketball. He scored 17 in the second half. We obviously didn't do a very good job on him.
¢ Stats, facts: KU is 1-2 for the first time since the 1987-88 national-title season. KU is 6-5 at the Maui Invitational. : KU is playing in the seventh-place game for the first time. : Rush's 20 points were the most by a KU freshman since J.R. Giddens had 24 against Iowa State in February of 2004. : Jeff Hawkins' 10 assists bettered his previous career high of four. Julian Wright's three steals were more than he had (2) in the first two games of the season. : Sasha Kaun had three blocks, matching a career high. : KU is 1-0 all-time versus Chaminade in the Maui Invitational. KU beat Chaminade, 89-62, in the opening round in 1987.
¢ Missed throws: Rush missed the front end of two one-and-one free-throw situations in the second half, and Russell Robinson missed another.
"We missed three front ends. That was the biggest factor in the game more than anything," said Self, whose team hit two of five free throws to UA's 10 of 14.
Copyright 2018 The Lawrence Journal-World. All rights reserved. This material may not be published, broadcast, rewritten or redistributed. We strive to uphold our values for every story published.