Burbank, Calif. — Producers are lunching. John Wells ("ER") holds court at a table of five and Chuck Lorre ("Two and a Half Men" ) sits nearby when Shaun Cassidy enters the Warner Bros. studio dining room.
Amid the predominance of over-40 white men, I'm conspicuously out of place. For less obvious reasons, I'm likely the only one in the room wishing Cassidy would break into "Da Doo Ron Ron."
A smile blushes over Cassidy's face as he's regaled by the story of a then 10-year-old fan regularly performing his tunes in front of a mirror singing into a hairbrush.
"That's how I started, too - with my hairbrush in the mirror," the 47-year-old Cassidy says, laughing, his boyish smile reminiscent of the former pop heartthrob - though now fuller in the face than that long-ago Tiger Beat pinup.
These days, Cassidy keeps behind the scenes producing "Invasion," the sci-fi mystery thriller he created that premiered this fall on ABC (9 p.m. Wednesdays). But once upon a time, he seemed seldom out of sight.
"Like a zillion kids, being a pop star seemed like a great job out of high school," he says. "Unlike most kids, I had access to people that might give me a record contract, if I was half-good - and I was only half-good, by the way. The idea of being a pop star was not unprecedented in my family."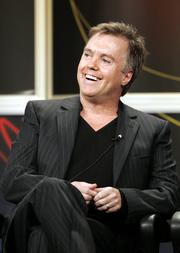 Son of actor Jack Cassidy and actress Shirley Jones ("The Partridge Family") and half-brother of teen idol David Cassidy, he spent his childhood around the stage and later performed with his band, Every Mother's Dream.
But he always knew he wanted something else. And he knew he liked to write.
"So I started trying to write. I'd write little one-act plays. I read a lot of scripts and watched a lot of movies, breaking them down scene-by-scene to see what the structure was, and found that I could do it."
USA Network bought his first screenplay in 1990, the creepy thriller, "Strays," about feral cats. "It was the biggest movie of the year, and after that I really didn't want to act anymore." (His final performance came on Broadway with David Cassidy in 1993's "Blood Brothers.")
As a TV writer-producer, Cassidy has run a number of shows and created the acclaimed 1995 Southern horror drama "American Gothic" - which, like "Invasion," mingled stories of family into a fantastical thriller.
"Shaun's gift is examining and heightening seemingly ordinary aspects of family that we might take for granted," says David Eick, a producer and former USA Network executive who has worked with him on several projects. "On many levels 'Invasion' is about a divided family in which children are given more autonomy and behave more like adults than they're probably ready for. In many respects, it's an allegory for Shaun's own life."
Copyright 2018 The Associated Press. All rights reserved. This material may not be published, broadcast, rewritten or redistributed. We strive to uphold our values for every story published.