Sasha Kaun shakes hands with reporters before they ask him all sorts of penetrating questions.
He laughs at jokes that, in truth, may not be all that funny.
By all accounts, Kansas University's 6-foot-11, 246-pound sophomore center is the type of guy every Jayhawk fan would love to invite home to Thanksgiving dinner.
"Coach (Bill) Self says sometimes maybe I'm too nice, this and that," Kaun said Friday night after bullying Idaho State for a career-high 25 points and career-best 16 rebounds in a 90-66 season-opening victory at Allen Fieldhouse.
"I'm not going to hurt anybody on purpose, but I have the mind-set to play hard, and, after the game, come back and be a nice guy."
Kaun hit nine of 15 floor shots and seven of 11 free throws.
Photo Gallery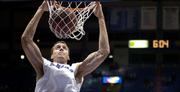 KU vs. Idaho State
He also had one of his two blocks -- a fierce rejection of Slim Millien with 3:40 to play -- playing just as hard at the finish as he did at the start.
"I call him, 'The Machine.' He's built like a machine and runs like a machine," KU freshman Brandon Rush said after scoring 12 points and grabbing seven rebounds in his college debut. "He's real good. I think he'll be a first-round (NBA) draft pick."
Kaun, who had highs of 11 points (against Villanova) and seven rebounds (versus Iowa State) his freshman season, scored 14 points and had seven boards the first half, helping KU storm to a 40-25 lead.
"Sasha was real active. He wanted it. When he wants it, it's hard to stop him," KU freshman Mario Chalmers said after his impressive debut of 15 points and three assists.
Chalmers hit seven of seven free throws as KU swished 26 of 34.
"Sasha was fabulous," noted KU coach Self. "The one tip-in he got ... for a 6-11 guy, it is as athletic a play you can make."
That tip came with 6:26 left, when Kaun gave the Jayhawks a 72-50 lead over the outmanned Big Sky Conference team.
Kaun credited his teammates for his buckets -- "like always, I'll give great respect to all the guards. They are the ones who delivered the ball down low, give me a chance to score" -- and gave a nod to assistant coach Tim Jankovich for his improved free-throw shooting.
"Me and coach Jankovich have been kind of working after practice. Work on little things, your feet and how to shoot, slow down a little bit spending extra time on that," said Kaun, a 33.3 percent free thrower his rookie year who made six of 14 in the preseason.
His and his teammates' performances were especially impressive considering the Jayhawks this morning after weights and practice depart for Hawaii, site of the EA Sports Maui Invitational, which runs Monday through Wednesday.
"I've never been to Hawaii. I've seen a lot of pictures," Kaun said. "It's a beautiful island, beautiful water. I heard a lot about it, especially going to Vegas for the Pete Newell camp last summer. It (camp) used to be in Hawaii. A lot of people who worked the camp live in Hawaii and told me it was nice. I'll leave it to surprise."
Idaho State never threatened to surprise the Jayhawks on Friday, though the Jayhawks did lead just 12-10 early. A 12-0 run, fueled by four points from Chalmers and four by Christian Moody with Kaun netting two in that span, gave KU a 24-10 lead midway through the half.
Go figure
2-13 Kansas' three-point shooting against Idaho State (15.4 percent) 9-26 The Bengals' three-point shooting (34.6 percent) 25, 16 KU sophomore Sasha Kaun's career-high points, rebounds 76.5% KU's free-throw shooting (26-for-34)
KU, which hit just one of nine threes the first half and two of 13 for the game, led, 63-50, when Jeff Hawkins' three, Russell Robinson's two free throws, Rush's hoop and Kaun's tip gave KU a 72-50 margin.
"We did some good things," Self said. "We forced 18 turnovers the first half and only scored 42 points. I thought our guys played hard, but we got a little stale in the second half.
"We don't want to get too excited, but there were a lot of good things that happened tonight. We need to make our perimeter shooting better and have to be thinking attack the whole time. We have to get our big guys posting up strong, especially C.J. (Giles, off night with four points, seven boards). All in all, there were some good things that happened tonight."
Copyright 2018 The Lawrence Journal-World. All rights reserved. This material may not be published, broadcast, rewritten or redistributed. We strive to uphold our values for every story published.