One of the top high school basketball players in the Class of 2007 today is expected to make public his decision to attend Kansas University.
Cole Aldrich, a 6-foot-10, 235-pound junior center from Bloomington (Minn.) Jefferson High, has chosen KU over Minnesota and North Carolina. He also was recruited by Kentucky, Michigan State, Arizona and many others.
Aldrich, who sources say committed to KU on Monday, his 17th birthday, has been waiting to make his announcement public because of a busy academic workload this week at school.
Barring any last-minute change of heart, he's expected to declare for KU today, though there is thought in some circles the announcement could still be Thursday.
Charlie Walters of the St. Paul Pioneer Press on Tuesday wrote in his column: "Minnesota and North Carolina will finish as runners-up for Aldrich, who last season averaged 15 points, 11 rebounds and five blocks a game. He is a B student."
Aldrich reportedly is enthused about picking up pointers from former Jayhawk All-America forward/center Danny Manning -- KU's director of student/athlete development, team manager -- who had a long NBA career.
Aldrich long has been enthralled with KU's program. He has taken five unofficial visits to Kansas, including the past two Late Nights.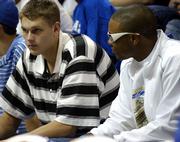 Last spring, Aldrich received what he called the "star treatment" from fans while playing for the Minnesota Magic in the Sport2Sport Invitational.
He scored 17 points in a morning loss to Houston at Allen Fieldhouse and 18 in an afternoon victory over Kansas Diaper Dans at Horejsi Center.
"After our first game, two guys (KU fans) came up to me. I didn't even know who they were. They were like, 'Hey, Cole, how's it going?' Some of 'em walk by, and they say, 'Oh, that's Cole.' It's pretty cool walking around and people knowing my name. It's kind of weird, but kind of cool."
Aldrich has seen two games in Allen -- a victory over Texas last year and a win over UT Chattanooga his freshman year.
"I think I know most of the main streets already," said Aldrich. "When I was here for the Texas game ... ESPN Game Day was here. We sat in the second row. I'm like, 'Do you know how much money this seat would cost?' I was like, 'Wow, real cool.'"
Oral commitments are nonbinding. Aldrich will not be able to sign with KU until next November.
The early weeklong signing period for the Class of 2005 will begin a week from today. KU has received oral commitments from Brady Morningstar, 6-4, from New Hampton Prep School in New Hampshire, formerly of Lawrence Free State, and Sherron Collins, a 5-11 point guard from Chicago Crane High.
KU is awaiting word from Darrell Arthur, 6-9 from Dallas, who is considering KU, Indiana, Baylor, SMU and Texas. KU has three scholarships to give in recruiting total in the classes of 2006 and '07.
Copyright 2018 The Lawrence Journal-World. All rights reserved. This material may not be published, broadcast, rewritten or redistributed. We strive to uphold our values for every story published.