When a student with a disability arrives on campus, Disability Resources works to provide assistance at school and teach the student to help themselves in the future.
"We do work on self-advocacy because they will have to advocate for themselves throughout their life," said Andrew Shoemaker, a learning disability specialist.
The office, formerly known as Office of Services for Students with Disabilities, serves approximately 650 students and is committed to protecting students' confidentiality.
The largest number of those students have hidden disabilities, such as Attention Deficit Disorder, learning disabilities or other medical and psychiatric conditions.
Zach Coble, a sophomore from Winfield, who has cerebral palsy, said Disability Resources does a good job meeting student needs.
"The university is making a pretty decent effort at trying to include people with disabilities," said Coble, president of a group called Ablehawks, which advocates for students with disabilities. "But there are always issues that need to be addressed."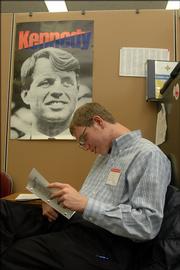 The geography of the Lawrence campus itself, with its hills, can be an obstacle, and some buildings require students in wheelchairs to go a long way around to get to a ramp, he said.
Having transit services for students with disabilities extended to classes and campus events has been a big help, he added.
The staff at Disability Resources will confer with students and help coordinate discussions between the students and professors. But the office urges students to be proactive and take responsibility to ensure that they are receiving the proper accommodation.
Some students may need to sit in the front of the class, use alternative materials such as books with large print, or take tests in a quieter room with fewer distractions. And some students may need academic aids, such as note takers and sign-language interpreters.
The office also provides real-time lecture notes for hard-of-hearing students, especially in science and math classes, where it is difficult for sign language interpreters to translate the classwork. A captionist listens to the lecture live via the Internet, and then sends the transcription by e-mail to the laptop computer of the student, who can read the lecture almost as it is occurring.
More online
For more information about Disability Resources, go to www.ku.edu/~ssdis.
The school also works to ensure that students with physical disabilities have access to transportation and are able to make it to class on time.
Shoemaker said the number of students requiring services is increasing as public awareness about disabilities has grown since passage of the Americans with Disabilities Act in 1990.
Copyright 2018 The Lawrence Journal-World. All rights reserved. This material may not be published, broadcast, rewritten or redistributed. We strive to uphold our values for every story published.