Lauren Donnelly started volunteering in her community in high school.
When she enrolled in college at Kansas University she wanted to connect with the Lawrence community and help make a difference.
She found volunteer opportunities at KU through the Center for Community Outreach program. It was established in 1990 by the Student Senate to serve the students matching their interests with the needs of the community.
"When I came to campus, I looked for a way to get involved," said Donnelly. "A friend referred me to the GROW Community Garden Project. It gave me a chance to interact with children and build stable relationships with those not privileged."
Mark Lyda, co-director of the center, said 7,000 students were involved in 15 programs last year. He suggested students volunteer in areas they enjoy, such as human rights, health care or the arts.
"Our programs address a variety of interests from music to our environment," he said. "Students will meet like-minded friends as well as help in the community."
Lyda said KU had made an effort to include volunteer programs for students of all backgrounds and interests. Students can make their schedule and arrange times for volunteering.
"The programs are run by students," he said. "Normally they spend one to three hours per week volunteering for the program they select."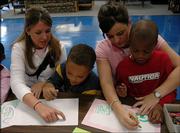 Students, who volunteer their time somewhere in the community, show a higher success rate in college than those who don't get involved.
"Students involvement on campus show higher retention rates and graduations rates," said Jane Tuttle, assistant to dean of students.
As well as success in college, student volunteers evolve as
Copyright 2018 The Lawrence Journal-World. All rights reserved. This material may not be published, broadcast, rewritten or redistributed. We strive to uphold our values for every story published.