In a couple of weeks, Eric Buschelman will graduate from Kansas University with a degree in electrical engineering.
A couple of months after that, the ROTC cadet will report to Wright-Patterson Air Force Base in Ohio to begin his career as a second lieutenant, fixing and maintaining electrical systems on airplanes.
After that: Who knows? With American troops in Afghanistan and Iraq, it's entirely possible Buschelman will find himself overseas in a combat theater.
"It's hard to say," Buschelman said last week, after KU's Air Force ROTC unit had a ceremony honoring its 16 graduating seniors. "All career fields in the Air Force are up for grabs, as it were, but most of the 'hot deployments' usually wait a few years, until people learn their job, become a lieutenant or a captain. In some cases, some second lieutenants go over right away, as soon as they finish their training."
And Buschelman is fine with that prospect.
"It's always been there," he said. "Whenever you put on the uniform, you've always got to be ready to serve your country whenever they ask you to."
Nationally, Buschelman and his KU colleagues may be more of a rarity. Enrollment in the Army, Navy and Air Force Reserve Officer Training Corps has dipped in the last two years, officials say, though Navy and Air Force enrollments remain larger than before 9-11.
Bucking trend
KU -- one of about three dozen schools nationwide with all three services on campus -- appears to be bucking the trend. Officials with the programs on campus say their recruiting has held steady and even increased slightly in recent years.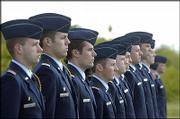 "What you've seen happen is a very gradual increase in enrollment," said Lt. Col. Jeff Maxcy, director of KU's Army ROTC program. "It's not dramatic."
Nationwide, enrollment in the Army ROTC has slipped more than 16 percent over the past two school years, leaving the program, which trains and commissions more than six of every 10 new Army officers each year, with its fewest participants in nearly a decade, according to the Washington Post.
Air Force ROTC has slipped 10 percent since the 2002-03 school year -- when there was a decadelong high of 17,513 students -- but its current enrollment of 15,793 is 10 percent higher than that for the 2001-02 school year. Navy ROTC enrollment fell 1.4 percent over the past two school years.
While it is unclear precisely why enrollments have dropped, Army officials and defense experts say the decline probably mirrors the problems the Army has had recruiting generally, as some potential recruits fear they will be sent into a war zone after earning their second-lieutenant bar at graduation.
"The services may be creating a problem that will be with them for another generation if they don't solve the officer recruiting problem," Edwin Dorn, a former undersecretary of defense for personnel and readiness, told the Washington Post. "You can't go out and hire a bunch of majors; you have to have commissioned a group of second lieutenants years earlier."
Patriotic zeal
Col. Michael D. Lee, director of Air Force ROTC at KU, said his program had 54 students during the 2002-03 school year.
"Our numbers have gone up roughly 10 percent a year since then," he said. "We got up to 80 last year. We usually come down, due to attrition."
Other ROTC officials at KU echoed Lee. Maxcy said the Army program had grown by three to five cadets a year since 9-11, to about 75 students now.
"We're just growing like KU is growing," he said.
Naval ROTC officials didn't have precise numbers available, but they said the program was averaging 15 to 20 new enrollees a year. The upcoming class of 2005 enrollees, they said, is bigger than average.
Lee suspects KU is going against the national grain because of the conservative recruiting base that Kansas provides.
"There's a strong patriotic zeal -- I don't know if it's zeal, necessarily, but a strong patriotic feeling that families are raising their children with in the Midwest. You feel it."
Maxcy, though, said his cadets represented a full range of political views.
"In my program, you've got the full spectrum, in terms of conservative or liberal," he said.
A commissioning ceremony for cadets from all three services will take place May 23, the day after graduation.
-- Journal-World Intern Janette Crawford contributed to this article.
-- J-W wire services contributed to this article.
Copyright 2018 The Lawrence Journal-World. All rights reserved. This material may not be published, broadcast, rewritten or redistributed. We strive to uphold our values for every story published.