Examining his team's schedule, Lawrence High girls swimming and diving coach Ryan Adams singled out two meets after the Lions' second-place showing Tuesday at the LHS Invitational at Knox Natatorium.
Adams pointed to the Olathe Invitational on April 9 and the Trinity Invitational on April 23, adding his girls can "make some waves" and qualify a healthy number for state given the high competition at both events.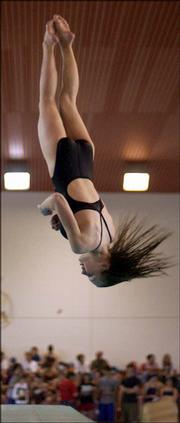 Adams then paused for a second before finding a more intriguing immediate future date: April 5, the first-ever dual meet between LHS and Free State.
"Obviously, we'd like to shake it by April 5th," Adams said as a quick smile came across his face.
Shake what exactly? Apparently, a case of spring-break sluggishness.
Some Lions may have logged quality pool time last week, but it's a good bet not all that time was spent in competitive training.
"Spring break was hard on us," Adams said. "Obviously, we're not going to magically be back where we were."
Added senior Melissa Little: "We're just kind of average right now. Swimming is a sport where we can't take that much (time) off and not get out of shape ... I think once we have a week of practice, we can start to get back into shape."
Based on Tuesday's results, though, some Lions haven't missed a step -- or stroke -- as LHS finished second, scoring 204. Blue Valley Northwest won the event, scoring 268, and Shawnee Mission North placed third (167).
Both the Blue Valley and Shawnee Mission school districts had their spring breaks two weeks ago.
LHS took first, second and third in the 500-yard freestyle as Little won in a time of 5:43.60. She was followed by Hannah Buchner (5:55.08) and Kahheetah Barnoskie (6:16.12).
Although she said it wasn't her best race, Little, who has qualified for state in the 500- and 200-yard freestyle the last three years, earned another trip to state with her performance.
LHS junior diver Meredith West and her freshman sister, Mallory, already qualified for postseason competition in the first meet of the year at Emporia, allowing the two to experiment on dives they otherwise would not attempt.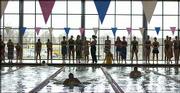 Mallory won the diving event after a score of 217.80. Meredith finished right behind her in second (191.25), but both girls insist there isn't a trace of sibling rivalry.
"We've just been in sports together for so long that it's not that big of a deal," Meredith said. "We just help each other and support each other and critique each other."
LHS will play host Tuesday to a dual with Shawnee Mission South.
Copyright 2018 The Lawrence Journal-World. All rights reserved. This material may not be published, broadcast, rewritten or redistributed. We strive to uphold our values for every story published.