A much-anticipated plan to put surveillance cameras in parking lots of Kansas University residence halls is almost done.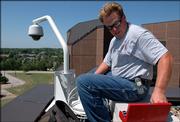 "They should be functional before the semester starts, which gives us an additional layer of security," said Ralph Oliver, director of the KU Public Safety Office. "It's not a panacea as far as safety in parking lots. ... Even though the cameras are going in, (students) need to be aware that cameras are not going in every parking lot on campus."
There have been at least four violent crimes in residence-hall parking lots since 2003, including an armed robbery of a KU freshman in the GSP/Corbin garage and a student held at knifepoint by a masked man near the Lied Center.
"I think safety is definitely a big concern" for students, said Marynell Jones, the incoming student-body vice president. "I think the video cameras are one step in the right direction to safeguard against something bad happening."
KU announced the plan to install cameras in August. Some students complained it was taking too long, but police said they wanted to find a top-of-the-line system that would last a long time.
Crews this week were busy installing cameras near the Dole Institute and the Lied Center, which is used for overflow parking for the Daisy Hill residence halls. Cameras also are being installed in the parking lots for Daisy Hill, Jayhawker Towers and the all-female Gertrude Sellards-Pearson/Corbin residence halls.
Oliver would not say how many cameras total were being installed, but he said the cost for this round of cameras was about $280,000. The department plans to eventually add cameras at Allen Fieldhouse and Memorial Stadium with a $100,000 grant from the U.S. Department of Homeland Security.
Copyright 2018 The Lawrence Journal-World. All rights reserved. This material may not be published, broadcast, rewritten or redistributed. We strive to uphold our values for every story published.