Former Lawrence High baseball standout Kevin Hooper is having one heck of a week.
And Monday's call-up to the major leagues wasn't even the best part.
"Having that little baby girl was unbelievable," said the 28-year-old Hooper, who received his best bit of news June 27 when wife, Lindsey, had the couple's first child, Lucy Ann, in Wichita.
Hooper was activated to Detroit's 25-man roster Monday and watched his first game as a Tiger on Tuesday night in Cleveland.
Hooper also got to meet his baseball idol, former St. Louis Cardinals shortstop Ozzie Smith, last week at a Wichita State baseball awards banquet.
"It's a pretty special week. I'll never forget it," he said.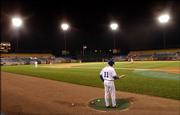 Hooper has toiled in the minor leagues for almost seven seasons. He did not play in Detroit's 3-2 victory Tuesday over the Indians, but after the game said sitting the bench was a thrill.
"Today was a blast. What a day. It was exciting to see all the guys again from big-league camp," said Hooper, who began spring training at Detroit's major-league camp before playing infield and outfield for Triple-A Toledo.
Hooper said Tigers manager Alan Trammell told him he might play shortstop, second base, third base or outfield.
Hooper's older brother, Dave, watched Tuesday's Tigers game from Lawrence.
"We bought a day pass on MLB.com, and my wife hooked it up the big screen downstairs, and it was roaring," said Dave, who watched his brother's debut with about 15 family members and friends.
Lynn Harrod, Hooper's former LHS coach, said Hooper succeeded because he never gave up.
"It exemplifies the type of player and young man he is," Harrod said of Hooper, his second player to make it to the majors. Harrod, who coached the Lions from 1986 to 1996, also tutored Lee Stevens.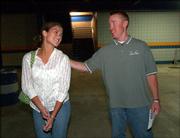 "He's persevered on every level. Every level, someone has tried to shut the door on him, and at every level, he's found a window to crawl through," Harrod said.
The 5-foot-10, 160-pound Hooper never has had it easy - in American Legion ball, the undersized shortstop/second baseman was delegated to the bottom of the batting order.
Still, his exceptional speed and fielding ability caught the eye of Wichita State coach Gene Stephenson, and a year later Hooper became the smallest player (125 pounds) to play in the College World Series.
Last year, after starting the season on the Florida Marlins' 40-man roster and finding success at Triple-A Albuquerque, Hooper was designated for assignment and removed from the roster.
A few days later, the New York Yankees added Hooper to their 40-man roster and assigned him to their Triple-A club in Columbus, Ohio. But, after being benched for the first time in his life, Hooper asked to be released.
Hooper, the Marlins' 1999 eighth-round draft pick, thought he had found the perfect spot when he inked with Kansas City in August.
But, under baseball rules, all players who have spent six years in the minors automatically become free agents at the end of the season. The Tigers offered him a deal this past December.
"I know last year was kind of rough on him," said Brad Stoll, Hooper's childhood friend and current LHS baseball coach.
While vacationing in South Carolina, Stoll received a call from Hooper at midnight Monday with the good news.
"But he's such a positive guy that he never got down, he just kept plugging away," Stoll said. "He kept working because he knew that he wanted to play in the big leagues - and guess what, he got it."
With the Toledo Mud Hens this season, Hooper was hitting .246 with no homers, 27 runs, 14 RBIs and 10 stolen bases in 51 games.
Copyright 2018 The Lawrence Journal-World. All rights reserved. This material may not be published, broadcast, rewritten or redistributed. We strive to uphold our values for every story published.