Lawrence High was within one point of Blue Valley after Lacey Elmore's basket with 7:22 remaining Thursday night in the first round of the Firebird Winter Classic at Free State High.
But LHS girls basketball coach Kristin Mallory was fuming well before the Lions' fourth-quarter collapse cost them a 62-41 loss.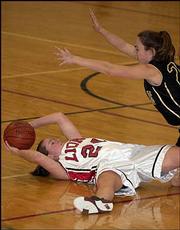 "We were horrible in the first three quarters," Mallory said. "I wasn't pleased with the first three quarters even though it was close."
Officials called just four fouls in the first half, and the Lions looked out of synch in a physical game.
"The game got rough, and they played it to their advantage," Mallory said of the Tigers. "We didn't. If you don't take care of the basketball, you're going to lose it. If you don't play defense, you can't win."
LHS (5-4) turned the ball over 23 times in a sloppy game that saw the teams combine for 39 turnovers.
The Lions led 13-10 after one quarter thanks to 10 points from Megan Klingler. Lawrence's senior center was tough inside with 20 points and 16 rebounds, but the Lions were just 1-of-8 from three-point range.
"Nobody could hit any outside shots to help Megan," said point guard Drew Huff, who scored 11 points.
The game was tied at 19 at halftime with Klingler providing 14 of the Lions' points. Huff had the other five.
LHS played one of its best games of the season Monday in a 54-49 home victory over Kansas City Christian, but Mallory could tell in the locker room that her team was in trouble Thursday night.
"We were not ready to play," she said. "We played about as well as we could Monday, but today we didn't match that intensity."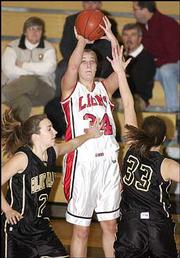 The Lions still were hanging around in the third quarter. Elmore, who had eight points, cut the deficit to one point late in the third at 29-28 and again in the fourth at 31-30.
Then things turned ugly. Blue Valley put together a 12-0 run, which included five points from Katie Joens. The Tigers turned what had been a close game into a blowout, outscoring the Lions 31-13 in the final eight minutes.
Joens led Blue Valley with 15 points. Kelsey Slack and Lauren Heist both added 12, and Taylor Hanson had 10.
Fourth-seeded LHS will face eighth-seeded Olathe North -- which suffered a 61-33 loss to Shawnee Heights -- in a 7 p.m. consolation-round game in Free State's north gym. Blue Valley will face Shawnee Heights at 5:30 p.m. in the main gym.
"Good teams bounce back," Mallory said. "We'll see if we can."
Blue Valley
10
9
12
31 -- 62
LHS
13
6
9
13 -- 41
Three-pointers
-- BV 5-11 (Slack 1-3, Heist 2-4, Stevens 0-1, Hanson 2-2, Joens 0-1); LHS 1-8 (Huff 1-5, Wilson 0-2, Elmore 0-1).
Turnovers
-- BV 16, LHS 23.
Fouls
-- BV 16, LHS 10. Fouled out -- Huff.
Blue Valley (62)
Kelsey Slack 2-5 7-10 12, Lauren Heist 5-9 0-0 12, Melissa Stevens 1-6 6-6 8, Kaley Miller 0-4 1-2 1, Taylor Hanson 4-6 0-0 10, Katie Joens 7-15 1-2 15, Kenzie Ziegler 2-6 0-1 4. Totals 21-51 15-21 62.
LHS (41)
Drew Huff 4-9 2-4 11, Kayla Nolte 0-2 0-0, Sydney Wilson 1-9 0-0 2, Lindsey Lawrence 0-2 0-0 0, Lacey Elmore 3-7 2-5 8, Megan Klingler 10-23 0-2 20, Kaetlyn Hobbs 0-2 0-0 0. Totals 18-54 4-11 41.
Copyright 2018 The Lawrence Journal-World. All rights reserved. This material may not be published, broadcast, rewritten or redistributed. We strive to uphold our values for every story published.