It's not unusual for high school students to think ahead to their senior year.
Last winter, Zach Colwell had little choice.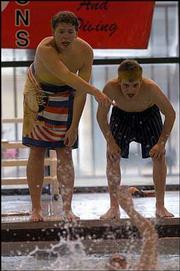 "I blew my knee out in football last year, so that was more of a rehab year," Colwell, a Lawrence High senior, said Wednesday after winning the 100 butterfly at the Lions' final home swim meet of the season. "I wasn't able to be competitive. My times were about two seconds slower than they are this year."
Colwell's patience is paying off. He qualified for the state meet in the 100 fly Tuesday when he finished fourth at the Topeka High Invitational in 58.61. He was first Wednesday during the LHS triangular at Knox Natatorium in 59.18.
"Obviously, I'd like to be faster," he said. "I feel like I'm on a good pace. I think after tapering I might be able to get into the finals at state. You just have to keep working at it. If I work as hard as I possibly can, I can probably take four or five seconds off."
The Lions won't start tapering until after the Sunflower League meet Feb. 4-5 at Free State. The state meet is Feb. 18-19 at Manhattan.
Colwell made it to state in a relay as a sophomore before missing last year's big meet. Colwell and teammates Zach Henderson, Alex Boyer and Marcus Barnoskie are within a second of meeting the state-qualifying standards in both the 200 and 400 freestyle relays with one regular-season meet remaining.
The Lions were second to Olathe South on Wednesday in the 400 in a time of 3:41.96. LHS coach Ryan Adams altered his 200 lineup for the Senior Night triangular, putting in seniors Nick Leet, Brian Workman, Eric Marlow and Colwell. They finished fifth in 1:46.67, but Adams was pleased with their performance.
"That was fun to watch," Adams said.
That's because Leet normally sticks to diving. He won that event with a score of 248.55 -- 22.85 points ahead of his nearest competitor.
Henderson (200 freestyle) and Boyer (500 freestyle) also notched individual victories for LHS, but the Lions finished third in the team standings with 196 points. Olathe South won with 245, and Manhattan had 202.
"Today they swam pretty tired because we've had five meets in 12 days," Adams said. "We didn't end the regular season with a bang, but after five meets in a row like that, it's hard."
Copyright 2018 The Lawrence Journal-World. All rights reserved. This material may not be published, broadcast, rewritten or redistributed. We strive to uphold our values for every story published.