Four-year-old Elaina Le and her grandmother clung to a rooftop for 19 hours after Hurricane Katrina hit Biloxi, Miss. The memory of those rising waters still haunts the little girl's dreams.
On Friday, Elaina watched with wide eyes as the Rev. Joseph Tung Dang, a Lawrence priest, passed out Christmas gifts to her family and friends - a move that Dang and others hope will bring a bit of comfort this holiday season.
"Hopefully I can make her happy so she forgets what she's been through," Elaina's father, Minh Le, said. Elaina's Vietnamese name is Nhi.
The gifts came from an area business that prefers to remain anonymous. They were passed to Dang, who ministers at Our Lady of Perpetual Help, which offers Vietnamese Catholic services at the East Lawrence Center, 1245 E. 15th St.
After Dang passed out the presents, dozens of wrapped boxes were in piles around the recipients, all evacuees from Biloxi.
Elaina's grandmother received a minivan, a gift Dang brought to them by applying for it from the Web site cars4christmas.org.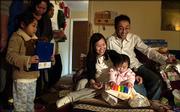 With pink-painted fingernails, Elaina ripped open one package to find a brown teddy bear. She fingered its gold tag quietly, standing close to her father.
There were smiles as the group looked at the gifts, which numbered between 80 and 100.
But the fierce storm and the struggles that have followed seemed not far from anyone's mind.
Elaina's father was a waiter at a casino before the storm. He planned to become a card dealer. The hurricane took everything.
"I couldn't salvage anything," Le said. "Everything was gone."
Ky Hoang, another evacuee, pulled out a cell phone to show pictures of the destruction. He pointed to images of high water and his own debris-ridden street.
Since they've been in Lawrence, Le, Hoang and another have gone to school to be nail technicians. With that schooling completed, they plan to start work soon.
"They pick up the pieces and put it all together," said Dang, who has answered his share of late-night calls from the evacuees needing help.
Dong Tran sat surrounded by presents with his girlfriend, Hong Bui, and their 15-month-old daughter, Trish Bui. Like the others, Tran waited out the storm in Biloxi.
But when it destroyed everything, including opportunities to work, he left.
Many of Tran's friends have scattered across the nation. But he has family still in Biloxi. Tran's girlfriend, Bui, is expecting another child in February.
For the whole group, the future is uncertain.
Dang, who has helped the families since their arrival, said he hoped to get them situated so they'll be self-sufficient by March. Most things are covered for the next few months, Dang said, except he is still trying to find a way to help pay some upcoming utility bills.
There are Christmas presents and the opportunity for new jobs, but there are still tears and little Elaina's nightmares to deal with.
Copyright 2018 The Lawrence Journal-World. All rights reserved. This material may not be published, broadcast, rewritten or redistributed. We strive to uphold our values for every story published.