If it wants something to hang its hat on, Kansas University's football team will have this claim to fame: It will be the first - and could be the only - Big 12 Conference squad ever to play in the Fort Worth Bowl.
Bowl games are a business, and the dollar signs dictate the Fort Worth Bowl find ties elsewhere starting next year.
It will, pitting a Mountain West team against a Conference USA team starting in 2006.
"We made a concerted effort to stay in the Big 12," Fort Worth Bowl executive director Tom Starr said. "We just didn't want to be out of the top six."
That's top six, as in pecking order. As it stands now, the Fort Worth Bowl is eighth in line to pick a Big 12 team for its game, behind the BCS, Cotton, Holiday, Alamo, Independence, Houston and Champs Sports bowls.
Before this year, the Big 12 failed to produce enough bowl-eligible teams to fill the Fort Worth Bowl's reserved slot. It forced Fort Worth to search elsewhere, eventually snagging Boise State and Marshall as at-large bids.
"It hasn't been fun being eighth," Starr said. "We said the only way we would stay in the Big 12 would be if we were in the top six."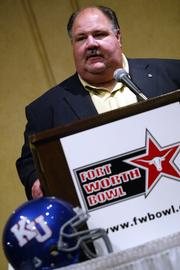 Six bowls, though, had significantly larger payouts to offer, so Fort Worth went elsewhere. It'll be the No. 2 Mountain West Bowl and No. 3 C-USA bowl starting next year through 2009.
The Big 12, meanwhile, will have a revamped bowl lineup for its lower-tier games the next four years, with the Independence, Champs Sports and Fort Worth bowls being replaced by the Gator (Jacksonville, Fla.), Sun (El Paso, Texas) and Insight (Phoenix) bowls.
Starr said a Fort Worth/Big 12 reunion down the road wasn't out of the question, considering the proximity of Fort Worth to the Big 12's most fertile recruiting grounds.
But for now, the Fort Worth Bowl is locked up for the next four years and probably without the hassle of having to search last-minute for an at-large team.
Now it needs a little sponsorship love, after PlainsCapital chose not to renew its two-year deal after last year's game.
The bowl will be without a title sponsor this season, but is pursuing one for 2006. That - along with the new conference tie-ins - could give the Fort Worth Bowl a drastic facelift after KU gets done playing in it on Dec. 23.
¢ Reid, Keith honored: Though the Associated Press All-America team has yet to be announced, KU linebacker Nick Reid and defensive end Charlton Keith already have received some national love.
Reid was named second-team All-America by Sports Illustrated this week, while Keith was an honorable-mention selection.
Four other Big 12 defensive players were honored: Texas' Michael Huff and Texas Tech's Dwayne Slay as first-team defensive backs, Texas' Rod Wright as a second-team defensive lineman, and Texas' Aaron Harris as an honorable-mention linebacker.
Copyright 2018 The Lawrence Journal-World. All rights reserved. This material may not be published, broadcast, rewritten or redistributed. We strive to uphold our values for every story published.