¢ Kansas University freshman Brandon Rush scored 10 points as KU raced to a 17-4 lead against St. Joseph's.
He finished with just 13.
"I guess I just cooled down. I got frustrated when my shots weren't falling and took myself out of the game," he said after hitting five of 10 shots and scoring 13 points in 36 minutes.
¢ Bus late: KU's team bus arrived at Madison Square Garden at 5:55 p.m. EST Tuesday, or just over an hour before tipoff - about 45 minutes late. The problem? The bus driver, transporting the Jayhawks from their hotel in nearby New Jersey, missed the Lincoln Tunnel twice. The trip took an hour and a half instead of the usual 45 minutes.
"I would think he thought he was going to the Meadowlands," KU athletic director Lew Perkins said of the New Jersey Meadowlands.
¢ Faces in crowd: Former KU chancellor and American League president Gene Budig, who lives in nearby New Jersey, attended the game. St. John's coach Norm Roberts, a former KU assistant, also attended.
¢ Back home again: Bronx native Russell Robinson hit three of six shots, including two of five threes, and scored eight points, with three assists and two blocks in 21 minutes.
Photo Gallery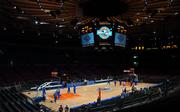 KU vs. St. Joseph's
"It felt good, really good," Robinson said of playing in the Garden. "I didn't have the day I expected. I think we can learn from this. I think it can help us. We've got to stick together."
Robinson estimated he had 20 friends and relatives on hand.
¢ Perkins knew Jimmy V.: KU athletic director Perkins was a friend of the late Jim Valvano, who instituted this one-day classic.
"Jimmy V. was assistant coach at Connecticut before I was there," said Perkins, former AD at Connecticut. "I was with him in the ACC. He was a great guy, smart, a great A.D. (at North Carolina State, while Perkins was at Maryland)."
¢ Jimmy V. loved the Apple: It's fitting the Jimmy V. Classic has been played at Madison Square Garden the past three seasons.
The building was the favorite of the late Valvano, whose V Foundation is the beneficiary of this one-day college hoop twinbill.
"It was always Jimmy's dream to play that 9 o'clock game at the Garden, and he achieved that at Iona, and that was a big moment for us," said Valvano's brother, Nick, head of the V Foundation in search of a cure for cancer.
Valvano played the marquee game at the Garden back in the 70s, before he took over at North Carolina State.
"If our presence in this tournament helps raise one extra dollar and that dollar finds the cure for this awful disease, then count us in every single time," St. Joe's coach Phil Martelli said.
¢ Martelli on point guard Dwayne Lee: "He showed that there's no challenge too big, Martelli said of his effort a year ago in taking over for Jameer Nelson and leading the Hawks to a 24-12 record. "Obviously everybody watched and knew that he stayed with it all year long defensively. He leads in a quiet, calm fashion."
¢ Valvano cause a good one: The legacy of Jim Valvano will live on as long as one man has a say in it.
"The cause sometimes gets lost," said Michigan State coach Tom Izzo. His Spartans played the second game of the twinbill versus Boston College. "Vitale makes sure it doesn't."
ESPN's Dick Vitale was a good friend of Valvano and is a champion of the fight against cancer.
¢ Phil's happy in Philly: Martelli, who is in his 11th year at St. Joe's, does not coach or schedule trying to further his career. He's not auditioning for other jobs, happy at the Philadelphia Jesuit school.
"I have no desire to be anywhere else," Martelli said, often comparing his underdog program to Gonzaga. "It's the right place for me. I enjoy helping bring success to the school."
Copyright 2018 The Lawrence Journal-World. All rights reserved. This material may not be published, broadcast, rewritten or redistributed. We strive to uphold our values for every story published.