The Christmas season is traditionally a busy time at Lawrence food pantries, but social service agencies are expecting their pantries to be even more popular this year.
"The demand (for food) is higher, and the income is a little less; that's what I'm looking at right now," said Paul Hunt, resources director at the Ballard Center, 708 Elm St.
Though statistics comparing the number of people seeking food pantry help last year and this year weren't immediately available, workers at East Central Kansas Economic Opportunity Corp., or ECKAN, said they were already seeing increases in requests.
"We typically see 100 to 200 households (families) a month, but it has been extremely busy," said Jeanette Collier, coordinator of the Douglas County ECKAN office, 2518 Ridge Court.
Hunt and Collier said they thought high heating and gasoline costs were causing many families to scramble to meet food expenses this year.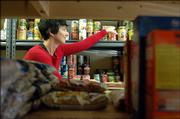 "I think people are spending more at the pump trying to get around, and the high heating bills, I think, are contributing to it," Hunt said.
Collier said she had noticed more inquiries than usual from elderly residents this year.
"They don't tend to get out and seek these resources unless they really need them," she said.
Penn House also is seeing a higher demand, coordinator Jolee Erskin said.
"I don't remember things being this bad last year," Erskin said. "I think (demand) is going to go up higher during the month of December, especially when the kids are out of school."
About six to 10 families a day use the Penn House food pantry, Erskin said. Most are younger families seeking boxes of Hamburger Helper, Tuna Helper, noodles or "anything they can make meals out of," she said.
Erskin could use some donations to the pantry, she said.
"I'm looking at my shelves right now, and I have one box" of Hamburger Helper, she said.
The Ballard Center also is in need of donations to its food pantry.
"If I can see the back walls then I know I'm running low," Hunt said.
A few months ago ECKAN partnered with three other food pantries, the Salvation Army, 945 N.H.; Pelathe Community Resource Center, 1423 Haskell Ave., and Trinity Interfaith Food Pantry, 1011 Vt. They call their collaborative effort the Just Food Program. The pantries work together with community organizations to hold food drives and then equally share the donations.
"We had some terrific food drives during the months of October and November," Coloier said.
In addition, Just Food pantries are now part of the Harvesters territory. Harvesters is a community food network based in Kansas City. Just Food is able to make special purchases of food through Harvesters.
Where to donate
¢ Ballard Center, 708 Elm St. ¢ ECKAN, 2518 Ridge Court No. 103 ¢ Penn House, 1035 Penn. ¢ Pelathe Community Resource Center, 1423 Haskell Ave. ¢ Salvation Army, 946 N.H. ¢ Trinity InterFaith Food Pantry, 1011 Vt.
Copyright 2018 The Lawrence Journal-World. All rights reserved. This material may not be published, broadcast, rewritten or redistributed. We strive to uphold our values for every story published.