Relief agencies such as the Red Cross are being inundated with offers from people interested in helping victims of Hurricane Katrina.
Meanwhile, officials at Lawrence organizations that aid the needy say their larders are nearly bare.
"We're down to canned corn and green beans," Penn House Human Resources director Linda Lassen said. "It's not enough to make a meal out of."
Ballard Center resource director Paul Hunt said his pantry is in need of basic items, such as peanut butter, canned tuna, pasta, cereal, baby formula and baby food. Diapers are needed as well. Other area charity pantries reported similar needs.
Lawrence residents wanting to help hurricane relief efforts with donated goods should consider the needs of their local aid agencies, which can accept the items and either put them to use or forward them to assist hurricane victims.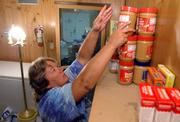 "Someone has to sort it, and either it has to be disposed of or returned to some place that can use it," Douglas County Emergency Management director Paula Phillips said of donated goods flooding in for Katrina victims. "Donations management can become a big issue."
Phillips suggested those eager to give should look to local food pantries and second-hand clothing stores.
Paula Gilchrist, social service director for the Salvation Army in Lawrence said her agency won't accept goods donated for hurricane relief but would be pleased to accept goods that meet local needs.
Donations accepted
The following are some of the social service groups accepting food donations:
¢ Ballard Center, 708 Elm St. ¢ Eckan, 2518 Ridge Court # 103 ¢ Penn House, 1035 Penn. ¢ Pelathe Community Resource Center, 1423 Haskell Ave. ¢ Salvation Army, 946 N.H. ¢ Trinity InterFaith Food Pantry, 1011 Vt.
Copyright 2018 The Lawrence Journal-World. All rights reserved. This material may not be published, broadcast, rewritten or redistributed. We strive to uphold our values for every story published.