Spuds and more spuds.
Four years ago, Kansas East United Methodist Men President Larry Kline went to Nashville, Tenn., and got involved with a sweet potato drop. After the success of delivering 40,000 pounds of yams all over the Nashville area, he decided to bring the idea to Lawrence - but with potatoes, not yams.
"We're helping the people in need. Going into Thanksgiving, it's a good time to have a potato drop," Kline, a Lawrence resident, said as he helped haul 1,000 pounds of spuds out of his truck and into the Salvation Army.
Kline and a handful of members from the Methodist Men volunteered their time and 2,700 pounds of potatoes to 10 shelters and food kitchens in Lawrence. Kline brought the potatoes from Valley Falls, where Methodist Men from the region gathered to divide 45,000 pounds of potatoes for distribution in northeast Kansas.
"I look forward to doing this every year," Kline said.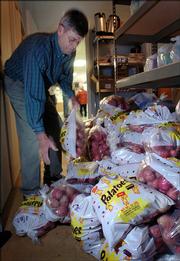 And so do the agencies receiving the goods. Salvation Army Food Director Patti Gallup said she was grateful for the donation, especially because fresh produce is a rare drop-off item.
"I can make all kinds of things. Mashed, baked, scalloped - we got potatoes," Gallup said as she prepared the afternoon meal for Salvation Army residents.
Besides adding potatoes to the menu, she said she will put them in Thanksgiving boxes distributed to less fortunate families in Lawrence.
"We have about 200 families signed up for boxes already, so if we give them each a 5-pound bag, they won't last long," Gallup said. "Lots of people are hurting."
Copyright 2018 The Lawrence Journal-World. All rights reserved. This material may not be published, broadcast, rewritten or redistributed. We strive to uphold our values for every story published.