The fact Jeff Hawkins and Russell Robinson played just a minute-and-a-half the second half Saturday doesn't mean they have lost their starting jobs entering Tuesday's 6 p.m. (CDT) clash against Saint Joseph's in New York.
"You guys make a bigger deal out of that than me. It doesn't matter to me yet," Kansas coach Bill Self said of starting lineups six games into the season.
"You don't change starting lineups based on one game. You change starting lineups based over time. Over time, our starters have been our best performers. I will not jump and do something just because one guy does something, plays particularly well one night. I get to watch them in practice."
¢ Chalmers' toe OK: Freshman guard Mario Chalmers showed no ill-effects of suffering a toe injury against Nevada. He logged 21 minutes and had five assists and four steals, but just four points off 1-of-5 shooting.
¢ Faces in crowd: ESPN reporter Pedro Gomez attended with former Kansas City Royals outfielder Brian McRae.
Photo Gallery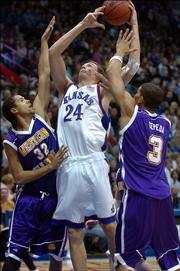 KU vs. Western Illinois 12-03-05
¢ Stats, facts: KU is 3-3 for the first time since the 2003-03 season. : Bill Self won his 50th game at KU against 19 losses. : Just like against Idaho State, every one of KU's players scored. : KU's 10 blocks were a season high and most since 10 against Iowa State on Feb. 21, 2004, in Lawrence. : KU had a season-low seven offensive boards. : Christian Moody's 12 points were a career high. : C.J. Giles' four blocks were a career high. : Sasha Kaun had a career-best three steals.
¢ No more KU-Nevada: Don't expect KU and Nevada to be playing in hoops again during the regular season anytime soon.
"Not unless they're going to come to Reno," Nevada coach Mark Fox told the Reno Gazette-Journal. "I doubt (another game) will happen. Kansas doesn't do a lot of home and homes."
¢ The last word?: Nevada coach Fox told the Reno paper that junior forward Nick Fazekas did nothing to elicit an obscenity from KU assistant Joe Dooley in the hand-shake line after the Wolf Pack's win over KU on Thursday.
Self had said Friday he heard things from Nevada players, but did not name names. He said it definitely was "not a one-way street."
"Nick said nothing to him (Dooley)," Fox said in Saturday's editions of the Gazette-Journal. "Nick was talking to a teammate. Joe apologized. Joe is a good man. He said he wasn't sure if Nick was talking to him. Nick was not. Nick is not like that."
Self said he has nothing more to say about the matter.
Copyright 2018 The Lawrence Journal-World. All rights reserved. This material may not be published, broadcast, rewritten or redistributed. We strive to uphold our values for every story published.