Like slot machines in Reno, Nev., casinos, Kansas University's basketball big men are clamoring to be fed tonight.
"For us to win, I think me and Sasha (Kaun) need to get a few more touches," 6-foot-11 KU sophomore C.J. Giles said Wednesday. "We've added a little more offense, more plays that run through the big guys," the 235-pounder added.
Since returning from Hawaii last Friday, KU coach Bill Self has tweaked the offense a bit, each day at practice stressing "working through our big men."
So look for an increased emphasis on inside play during a nonconference clash between unranked KU and No. 20-rated University of Nevada.
Tip is 8 p.m. at Allen Fieldhouse with a live telecast on ESPN2.
"We have been working a little more high-low," senior forward Christian Moody said of a halfcourt offensive set that sometimes results in big men cashing layups off feeds from other big men up top and players on the side, too.
"You saw how good Sasha and C.J. were in Maui. Those two guys are a big-time presence," Moody added of Giles and Kaun, KU's second- and third-leading scorers (behind Brandon Rush's 15 points per game) averaging 11.7 and 11.0 points, respectively, at the Maui Invitational.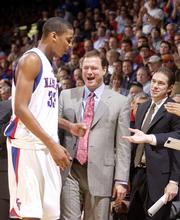 The combined 31-of-51 shooting (61 percent) of the two big men forced Self to do some re-evaluating.
"We are not exactly where we thought we'd be at this stage so we're going to have to adjust some things and maybe do a couple things differently to maybe play through our big guys and get 'em more touches because we didn't do a real good job getting them the ball," Self said.
"I thought the way we were playing would spread it and we would be able to get them more touches. I thought we were a better drive it, penetrate-and-pitch team than a shoot-off-the-catch team.
"I thought our big guys from a passing standpoint would be better playing the way we played rather than running high-low, things like that.
"I'm not saying we're changing everything," the coach stressed. "We've got to become more a combination of something rather than predominantly a ball-screen, spread-it-and-drive-it type team."
Whether anything looks out of the ordinary to the naked eye tonight against 3-0 Nevada remains to be seen.
"We'll still run. We still want to get out and go and get an easy two if we can," senior guard Jeff Hawkins said, grinning when asked what "working through the big men" means.
"Maybe it means more assists for the guards," he said. "I don't have a problem going through the big men. They are the strength of the team right now. I think it's a smart move by coach. Once we get the ball inside, if they double team, help up, the guards need to be ready to shoot. It will open the outside shot."
Giles said the big men still hoped to get a lot of points in transition.
"Some people said it'll slow the game down," Giles said of the high-low offense. "Me and Sasha are fast enough to not make that happen."
Giles and Kaun, of course, won't be the only inside focus. Self is hoping senior forward Moody can pick up his game a notch.
"We didn't play Christian as much over there (in Hawaii). Hopefully that bothered him a little bit that he'll become much more assertive," Self said.
Moody, who scored eight points and grabbed six boards total while averaging 11.7 minutes a game in Hawaii, said he had added motivation.
"Coach has had some good talks with all of us, what we need to learn from Maui," Moody said. "A lot of us have taken to heart what he's talking about. For me, I need to be a lot more aggressive and more a presence to earn that trust coach needs to put me on the floor."
Self also seeks more from Hawkins.
"I'm pleased with 'Hawk.' He's not shot the ball like he's capable of doing, (but) he's still doing the things we know 'Hawk' can do," the coach said. "He will make some shots. He is a better shooter than what he's shot it."
A longtime backup, Hawkins said he learned a lot in making three starts in Maui where he hit just two of 12 shots total and had 18 assists to 11 turnovers while logging 26.7 minutes per game.
"It was a new experience," Hawkins said. "I need to be a quick learner and learn from all my mistakes. I thought I turned it over more than I should have. I should have knocked down some easy shots. I could have been more of a leader.
"I've had a chance to sit back and analyze the whole situation and get a feel of what I can do more to help the team."
It will take a team effort tonight against a Nevada squad that has won 12 straight road games dating to last season.
This season, the Wolf Pack has won at Vermont (77-62) and UNLV (68-61) to go with a home win over Sacramento State (82-74).
"It's a really big game," Hawkins said. "They are a ranked team. This would help us and our program a lot."
"The team is battle tested," Self said of Nevada. "They certainly have a legitimate ranking now. I don' know if they'll be the best team we played to date but they can play with anybody we've played so far (including Arizona and Arkansas)."
Copyright 2018 The Lawrence Journal-World. All rights reserved. This material may not be published, broadcast, rewritten or redistributed. We strive to uphold our values for every story published.