When healthy, Nick Fazekas is as talented a big man as there is in the country.
He's not half-bad when ailing, either.
Fazekas, the University of Nevada's 6-foot-11, 235-pound junior All-America candidate from Arvada, Colo., and reigning Western Athletic Conference Player of the Year, scored 20 points and grabbed three rebounds, all while suffering from food poisoning, in a 77-62 win eight days ago at Vermont.
"It probably was one of the toughest things I have ever done playing basketball," Fazekas told the Reno Gazette Journal after laboring through 27 minutes.
"It got harder as the game went on. I felt worse and worse. It was hard to run up and down. I fought through it and we won."
Nevada guard Ramon Sessions, who also contracted food poisoning 16 hours before the game, contributed two points in 12 minutes.
"They really fought through it. I was proud of them," coach Mark Fox said of the duo he expects to be completely recovered for tonight's 8 p.m. game at Kansas.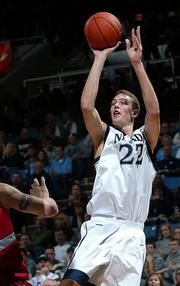 The two remained wobbly in last Saturday's 68-61 win at UNLV, Fazekas scoring six points and Sessions nine in 27 and 22 minutes, respectively.
"We have a team now," Fox said after Marcelus Kemp and Mo Charlo responded with 24 and 18 points, respectively.
"We just don't have two players. They showed it. Our depth made a difference," Fox stated.
While Nevada has a batch of good players, the national focus is on Fazekas, who averages 18.0 points and 8.3 boards a game.
"We did a good job on Nick last year. We did a pitiful job the year before," Self said.
Fazekas had 17 points off 5-of-18 shooting with nine rebounds in KU's 85-52 win over Nevada last year at Allen a year after potting six points with six boards in 15 minutes in the Wolf Pack's 75-61 win over KU in Reno, Nev.
"He can shoot it. He's kind of a face-up guy with a low-post game. He's very good at getting to the line. His shot fake gets you off balance. We need to be very sound defending him or he could make our young guys not look very good," Self said.
Self said the Fazekas-led Wolf Pack of the Western Athletic Conference would fare well in the Big 12. "They'd finish in the upper tier of the league," the coach stated.
¢ Young and fun: Self was asked if he was having fun coaching such a young team. "Yes. They are frustrating sometimes because I think my intensity level sometimes is not equaled by theirs. A lot of that is being young, too, learning how to do certain things."
¢ Busy slate: KU plays Western Illinois on Saturday at Allen Fieldhouse, St. Joseph's on Tuesday in New York and
California-Berkeley a week from Saturday at Kemper Arena in Kansas City, Mo.
"It's a key stretch for us," Self said. "We'll find out a lot more about our team the next two weeks moreso than Hawaii. Here you have a chance to tweak things. In Hawaii, you don't have that chance."
¢ Probables: Self said he expected to again start Jeff Hawkins, Russell Robinson, Brandon Rush, Sasha Kaun and C.J. Giles.
¢ Fox on KU: Nevada returns three starters from the team that fell to KU, 85-52, on Nov. 29, 2004. KU, of course, lost four starters, returning only Christian Moody now coming off the bench.
"Kansas is not nearly as experienced as last year. They arguably are more talented," Fox said. "I think they will be terrific. They will be much better this week than last week. They will be better in December than November and better in January than December.
Fox has been impressed watching the 2-2 Jayhawks on tape.
"They have a lot of guys who can score," he said. "C.J. (Giles) and (Sasha) Kaun are putting up numbers down low. We couldn't guard (Christian) Moody last year (four points), and Russell Robinson killed us (with 13 tallies). Brandon Rush is playing really well early. They are a very good Big 12 team."
Copyright 2018 The Lawrence Journal-World. All rights reserved. This material may not be published, broadcast, rewritten or redistributed. We strive to uphold our values for every story published.