On Thursday, Kaileen Shanks wore a black trench coat that dragged on the sidewalk when she walked. On another day, she may dress like a preppie or a skater or a Goth.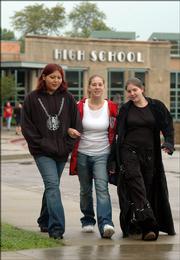 "Sometimes, if I'm in the mood, I'll dress up in a prom dress," said the Lawrence High junior with chameleon-like style.
Fashion is an issue school officials say they continually grapple with as they try to balance the need for appropriate academic dress with students' desires for self expression. Add to that mix clothing that is sometimes tight, revealing, skimpy or distracting.
The latest fashions were one reason the Lawrence Catholic School adopted a school uniform policy this year, Principal Patricia Newton said.
"It became an issue of modesty," she said. Now "they look like children. You want to preserve that. We don't want them looking like rock stars."
Schools across town are wrestling with dress codes.
Lawrence High banned spikes and chains. Veritas Christian School loosened its rules to allow sandals, capri pants and plain-front pants, not just those with pleats. Bishop Seabury Academy added blue and green plaid skirts to its list of acceptable clothing.
Pros and cons
At the Lawrence Catholic School, which has students in kindergarten through sixth grade, students are still warming up to the new outfits.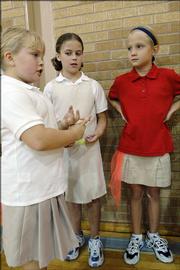 "I hate them," said Bayley Goscha, a third grader. "You only get to pick out your own clothes on Saturday and Sunday."
James Kenney, 11, said the shorts weren't long enough for his style. He prefers shorts that hang below his knees. And James said he had to unbutton his collar a bit to feel comfortable in the polo shirt.
"They make you look like a dork," he said. "The people who weren't dressing right - they should have made them wear uniforms."
But there are young fans of the new policy, too.
Shelby Hill, 9, wore a tie to picture day last year. Other students pestered her. Now she doesn't have to worry.
"People don't get picked on for what you wear," she said.
Parents of the school's students say there are many pluses to uniforms: There are fewer choices to make each morning, less materialism and fewer class distractions.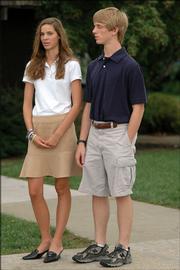 "Although they don't admit it, they like it," said Susie Brown, mother of four children at the school. "I think they're proud."
Free expression
Schools that do have uniforms or strict dress codes say they still leave a bit of leeway for students to express themselves. And there are other ways to stand out.
"I think it encourages more self expression through your personality," said Brooke Sutherland, a Bishop Seabury sophomore.
And self expression is a key point with students.
Lawrence High junior Alease Graff likes to dabble in different looks. She'd quit school if they imposed a uniform policy, she said. And she thinks the current one is a bit tough.
"You can't wear anything that reveals your body too much or covers it up too much," she said.
Some Common dress rules in Lawrence Public Schools
¢ No hats inside buildings ¢ Midsections must be covered ¢ No sagging pants ¢ No suggestive language, profanity, or symbols of drugs or alcohol
Lawrence High Principal Steve Nilhas said the key was to find policies that ensured student safety, promoted a positive learning environment and cut down on distractions, but also allowed kids to be themselves.
"One of the things that makes Lawrence as a city very special and Lawrence High School very special is we do celebrate people's individualism," Nilhas said. "I think it's really important that we take that into consideration."
Copyright 2018 The Lawrence Journal-World. All rights reserved. This material may not be published, broadcast, rewritten or redistributed. We strive to uphold our values for every story published.