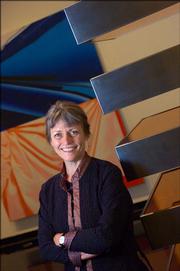 When Saralyn Reece Hardy walks the galleries of Kansas University's Spencer Museum of Art, she sees beauty.
She sees power.
She sees opportunity.
"The Spencer Museum is a very special place with a long legacy of excellence," she said. "What is very exciting to me now is to be daily discovering surprises. There are interesting and absolutely provocative works in the collection. There are also amazing people resources outside and at the museum. I think I inherited a very ambitious and thoughtful staff."
In March, Hardy took the reins of the Spencer Museum of Art as its director.
She previously served as the director of the Salina Art Center and the director of museums and visual arts at the National Endowment for the Arts in Washington, D.C.
Hardy has strong ties to KU. She earned a bachelor's degree in integrated arts in 1976 and a master's in American studies in 1994 at KU. Hardy also served as a project coordinator at the Spencer from 1977 to 1979.
There is amazing potential to engage artists, scholars and leaders in the university, community and state communities through the Spencer, Hardy said.
"There's almost a daily revelation about something in the collection that I am seeing and thinking about how important it is or what it might have to offer for a dialogue with the community," she said.
Hardy views collaboration as a key point in the continuing growth of the museum. She also sees it as a way to pull more people into the museum.
The museum needs to reach out more to work with artists and strive for rigorous scholarship, she said.
Hardy has taken over the position as director at a critical time for the museum. KU officials want to expand the Spencer to hold the museum's growing collection of more than 25,000 objects. The project comes with a $14 million price tag. Fundraising is under way, Hardy said. But she said the project would require support from the area community.
The Spencer has the ability and the capacity to elevate KU through the arts, Hardy said.
"There is a sense here that art makes a difference in people's lives," Hardy said. "That's something worth getting up for in the morning. That's something worth seeing."
Copyright 2018 The Lawrence Journal-World. All rights reserved. This material may not be published, broadcast, rewritten or redistributed. We strive to uphold our values for every story published.