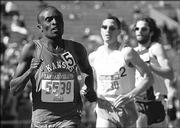 Good is not enough. At least not for Kansas University track and field coach Stanley Redwine.
The KU men and women posted their highest team finishes in the Big 12 Outdoor championships in May, but Redwine is not satisfied.
He doesn't believe his team should be, either.
"We're definitely looking to do better - indoors and outdoors," Redwine said. "Our athletes are coming in with an expectation to do well. I think once they know that something is expected of them, they can step up to the challenge and will step up to the challenge."
In his fifth season as KU track boss, Redwine was named Big 12 Conference men's outdoor coach of the year last season after his team's impressive turnaround. The KU men went from finishing last in the Big 12 in 2004, scoring just six points, to fourth last year with 85 points.
Though both the men and women squads showed improvement, some vital pieces will not be returning from last year's team.
"For some of the athletes," Redwine said, "it's their time to step up."
On the men's side, the most notable absence will be middle distance runner Jeremy Mims. The graduated senior not only contributed points in the 800, but also anchored many of the relay teams.
The men will look to senior thrower Sheldon Battle for both points and leadership after he was named the Big 12 Outdoor performer of the year.
Battle scored 28 of KU's 85 points in the league meet, finishing first in the discus and hammer throw and second in the shot put. He also broke a 34-year-old school record in the shot put.
"We've got a lot of people returning," Battle said. "We need to keep up the morale and keep the aspect of a team. We're going to bring in a few new people, but we need to bring them in as a team and not individuals and just keep going up from there."
Amy Linnen will be missed most on the women's side after winning a national championship in the pole vault during the indoor season.
But Redwine seems to have found a solid replacement in Kate Sultanova. The Big 12 freshman of the year will look to continue her improvement after winning the conference vault with a mark of 13 feet, 5.25 inches.
"Kate has been doing a great job," Redwine said. "She works well under pressure, and I think she's going to continue to do well."
Redwine might be most excited about the potential of his men's cross country team.
Led by Benson Chesang, who won the Big 12 cross country title and finished seventh at the NCAA championships, the focus will be to finish in the top two at regionals and earn a spot at nationals.
"I want to get our team qualified. I don't just want individuals to qualify for the NCAAs," Redwine said. "I want to not just qualify, but also do well there. And I think they want that. That's their goal as well."
Redwine will look to sophomores Colby Wissell and Paul Hefferon for depth beyond Chesang.
The women's cross country team finished 10th at 2004's conference meet and returns a mostly inexperienced squad.
"We have some young athletes," Redwine said, "and as they mature and get better, hopefully we'll do better than we did last year."
Copyright 2018 The Lawrence Journal-World. All rights reserved. This material may not be published, broadcast, rewritten or redistributed. We strive to uphold our values for every story published.