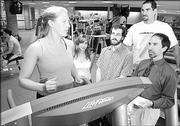 A healthy lifestyle is possible for Kansas University students.
Recreation opportunities and nutritional help are available on campus. Many of the services are paid for through student fees.
KU Recreation Services offers a variety of chances for students to stay fit. The Student Recreation Fitness Center, which opened in September 2003, is available to all full-time students who have paid the student recreation fee for the semester and have a valid KU identification. Amenities at the center include cardiovascular and resistance training equipment, a 42-foot climbing wall, courts for basketball, volleyball, racquetball and squash, a suspended track, and aerobics and martial arts studios.
"(The rec center) is brand new, so it's pretty nice," said Dominica Funkey, a psychology senior at KU. Funkey usually commits to at least half an hour of cardiovascular exercise every day at the center.
Recreation Services provides three main programs at the center: KU Fit, personal training and Fit4U.
¢ KU Fit is a series of group exercise classes. The classes are taught on subjects like yoga, Pilates and resistance training.
"We offer classes throughout the day with the majority meeting in the evening because that's when students want to be there," said Jill Urkoski, associate director of fitness and staff development.
Classes also are offered in early morning and on weekends with 35 to 40 classes a semester. Every week, the first 30 people who come to the class can take it.
"There is no additional cost for students, and students can go every day of the week if they want to," Urkoski said.
¢ Personal training is an hour-long session. Trainers and students talk about goals and then develop and implement a workout based on those goals. The main areas of focus are cardiovascular exercise, resistance training and flexibility training. Individuals can wait in line every other Tuesday for the chance to sign up for one of the 40 free sessions offered.
¢ Fit4U is a session that gauges body-fat percentage, blood pressure, heart rate, strength, flexibility and other fitness variables using a computer program. After the assessment, a staff member helps the student design a personalized fitness program.
Facilities
Students can use a smaller workout facility on the third floor of the Burge Union, and Robinson Fitness Center has times set aside for students who want to use its indoor pool, racquetball courts and gyms. Shenk Sports Complex, at the corner of 23rd and Iowa streets, is available for field sports when intramural sports or team sports are not scheduled.
Urkoski encourages students to take advantage of the facilities at KU and suggests 30 minutes of constant cardiovascular exercise three times a week as a realistic starting point for students trying to stay fit.
"The benefits are so vast for students," Urkoski said. "It relieves stress, and there is a social part along with health and fitness benefits. And a lot of students say they're too busy. But if you're spending three hours a day studying, you are probably only retaining about half. Why not take a break in between? You'll be more productive."
Urkoski recommends planning for weekly exercise, starting an exercise routine slowly and finding pleasure in staying fit.
"Search for something you enjoy, not whatever burns the most calories, or you'll never stick to it," Urkoski said.
Funkey emphasized the mental benefits of exercise.
"It's a natural antidepressant," she said.
Copyright 2018 The Lawrence Journal-World. All rights reserved. This material may not be published, broadcast, rewritten or redistributed. We strive to uphold our values for every story published.